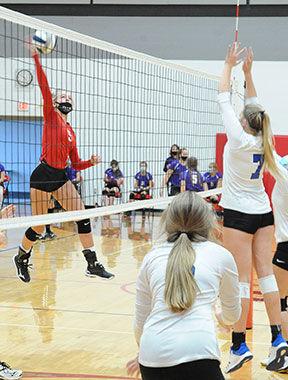 TAWAS CITY – The Tawas Area volleyball team hosted its home invitational on Saturday. The Lady Braves went 1-2 on the day, falling to Midland Calvary Baptist 25-23, 25-23 and 25-23, topped Mio 21-25, 28-26 and 25-20 and then fell to Hale, 17-25, 25-21 and 25-22.
"We started off really slow in the morning, we just didn't hit our defense the way we needed to pick up the off-speed hits from Calvary Baptist," Tawas head coach Carol Elowsky said. "They play a very consistent game, but rather than push the game pace to the level we like to play, we slowed our game down.
"Mio was the match we really prepped for as they are really similar to Roscommon, who we play in the first round of districts in that they both have big middles and a couple of really good servers," she added. "I was really happy with how we handled the middle blockers and the outside of play of Hanna Edmonds and Paige Barringer was really clean and our hits were well placed and Hayley Lingo passed well and allowed us to run our offense."
The day ended on a sour note, however, in the team's loss to Hale. 
"We had a great first set and then we just slowed down our play again which you can't do when you play a team like Hale that will pick up every ball," Elowsky said. "We need to focus on pushing ourselves ahead on every point and not having little errors because in two point matches they can cost you the set. 
"The quad really showed what we need to continue working on and what we are very solid on right now. We really rise under a fast tempo match and that is good because that is what we will be seeing at district.  We need to work our serving consistency and placement and continue to improve our serve receive and defense."
Leading the way on the day was Edmonds with 21 kills, Barringer put down 19 kills, Elise Klinger had six aces and five blocks, Elle Brownell had five blocks, Kaylee Kaems had 31 assists and Haylee Lingo had 41 digs. 
On Monday, Oct. 12 the Braves hosted Standish-Sterling on senior night. Tawas came up short in each set, 25-16, 25-23 and 25-23.
"It was senior night and a very emotional night as almost the entire starting lineup is seniors," Elowsky said. "This volleyball season has been so unusual, I think that it was really nice we got to have a senior night."
Edmonds and Barringer had seven kills apiece to lead the attack and Brownell had four blocks.
"Kaems had a strong night getting up great sets for our hitters and ran down several balls," Elowsky said. 
Tawas (9-16) heads to Ogemaw Heights for a quad match tonight (Wednesday) and plays in another quad on Monday at Essexville Garber.