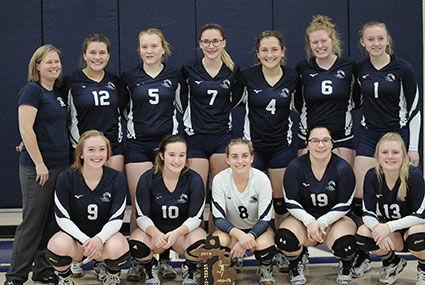 HALE – There's an old basketball saying that you can't lose or win a game in the first quarter. Thankfully that holds true in volleyball as well, as Hale overcame a sluggish first set in its home Division 4 district championship game Thursday, to pick up a four-set win 16-25, 25-9, 25-8 and 25-16 over AuGres.
"It feels amazing, no other way to put," head coach Toni Nieman said of winning the home district. "It is nice to see the hard work pay off. They set their goals at the beginning of the year and they have reached them all. That's an amazing feeling." 
Hale last won a district title in 2017, and while the Lady Eagles were heavily favored to top AuGres, the Lady Wolverines used a late surge in the first set to take the early 1-0 lead. 
"You could just tell that they were completely nothing but nerves," Nieman said. "I went to them in between games and said 'OK girls, that was our warmup, just forget about that set. I'm not quite sure what happened other than nerves getting the best of you so just settle down and play our ball.'"
The Eagles apparently took their coaches' advice, as they jumped to an early lead in the second set and never looked back.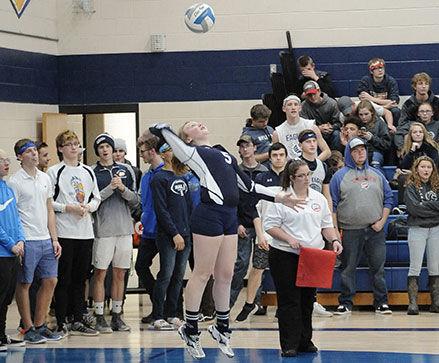 Kaylee Collins served up an early ace to give them a 7-3 lead, with an Abby Parkinson spike putting the score to 11-5. Morgan Vance delivered an ace at 13-5 and she also was able to dig out an AuGres attack and send the ball back over the net for a point at 15-6. 
It got to 17-6 thanks to a kill by Parkinson, and Parkinson also served up aces at 19-8 and 21-8. A Brooke Pelton ace brought the Hale lead to 23-9 and Hale closed out the set thanks to back-to-back spikes by Vance. 
Collins peppered a hard spike early in the third set to put Hale ahead 5-3, though AuGres hung around at 7-7.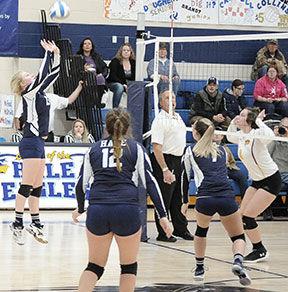 Vance had four aces in the midst of a strong scoring run, giving the Eagles some room at 14-7. She also had a tip at 20-8, and Parkinson smacked a kill at 24-8. Shailey Brandt finished off the set with an ace at 25-8. 
The fourth set saw Collins continue her hot-serving night, as she drilled two early aces to put Hale in the lead at 7-5. Parkinson made a play at the net for a kill and a 13-9 advantage and Vance placed a tip to a vacant spot at 22-14. 
A kill by Sophie Irwin pushed the lead to 23-15 with a kill and Parkinson finished off the district title with a kill for the game's final point. 
Vance led the team with 18 points, with Pelton and Brandt getting 10 points each. 
"Brandt did a nice job, they had a really hard time passing her serves up, so I utilized on that quite a bit," Nieman said. "We hit the ball well so that helped out too." 
On Wednesday, Nov. 6 Hale was able to sweep Atlanta in the district semifinals, 25-6, 26-9 and 25-10.
"The girls played well and were able to handle any situation that was thrown over at them," Nieman said. "They moved their feet well on defense and hit well." 
Vance led the team with 15 points and Claudia Cadwell added 11. 
On Monday, Nov. 4 Hale was able to defeat Mio in its district opener, in what was a meeting between the two best teams in the district, 33-31, 25-15 and 25-19. 
"It kind of was like the finals," Nieman said. "I did have somebody tell me that Mio was favored win but I said anything could happen. We prepared for it mentally and I think that helped as they were mentally ready after practicing and strategizing to play Mio." 
The Eagles trailed most of the first set, including 9-7, 17-11 and 19-14. 
Jori McKulsky had a spike to help draw Hale within 19-15 and an ace by Parkinson drew the Eagles within 24-23. 
The teams traded points until a Pelton tip made it 31-31. Pelton followed with another well-placed tip from the front row, as she placed the ball to an empty spot to give the Eagles a dramatic 33-31 win in the opening set.
"That was intense," Nieman said. "At one point we were down seven points so for them to keep a calm mindset and come back and win that first game and that just helped set the pace for the next two games." 
The Eagles had a relatively easy time in the second set and were sparked by a four ace spree late in the game by Collins, that put it to 24-15. A late attack error by Mio gave Hale its final point at 25-16. 
A tip by Collins gave Hale a 5-1 lead early in the third, with Parkinson getting a kill at 8-3. Kills by Pelton and Collins pushed the Eagle lead to 13-6. Pelton served up an ace that hit the net but just barely rolled over at 16-7 and Hale was able to finish off the game from there. 
Cadwell led the team with nine points and Vance chipped in with nine. 
Hale played in the regional semi-finals against Traverse City Christian at Bear Lake on Tuesday. Leland and Bellaire played in the other semi-finals with the championship set for Thursday. The regional winner moves on to quarterfinals at Chippewa Hills on Tuesday. 
"I went up to look at Traverse City Christian and they are pretty comparable to Mio and Oscoda," Nieman said. "I think that we are just going to have to be mentally prepared and just be on our top-game so that we can continue on."