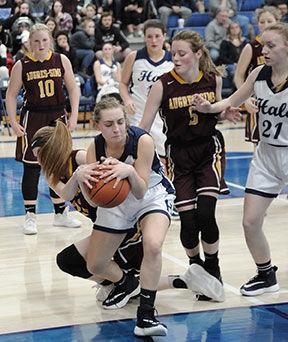 HALE – After slumping through a mini three-game losing streak, the Hale girls basketball team was able to get back on the right side of the scoreboard Friday night. The Lady Eagles, hosting AuGres in a North Star League Little Dipper showdown, won handily 43-23. 
"It was good to get back in the win column and see our production on the offensive end pick up," head coach Ryan Parkinson said. "Brooke Pelton and Claudia Cadwell each had a good night scoring for us, but we again saw some balance to our scoring.  I thought we defended pretty well most of the game.  We had a little better tempo to our offense and that is something we are working on, so that was a huge positive.  We will keep working to find the best rotation we can as we get ready for districts."
Brooke Pelton and Abby Parkinson each had four points in the opening quarter, as Hale was able to hold a 13-9 lead after one. The Eagles extended their lead to double digits by the half, claiming a 25-15 advantage. 
A trey midway through the third by Kiara Ludwig allowed Hale to claim a 32-15 and Jasmine Harris netted a bucket in the paint to make it 34-15 entering the fourth. 
Pelton finished with 13 points, eight rebounds, five steals and two blocks, Cadwell scored seven of her 10 points in the fourth quarter and also had four rebounds and three assists, Ludwig added nine points, seven rebounds and three steals, Parkinson had seven points and six boards with Harris and Delaney Kimmerer adding two points apiece. 
On Saturday, Hale dropped a non-league game with Lake Leelanau St. Mary 43-35. 
"The final score of this one doesn't tell the full tale of this game," Parkinson said. "When we played earlier in the season we got down big in the first quarter and were not able to recover.  Saturday we came out with great energy and hustle and only a half court heave at the buzzer put us down at the half. 
"We struggled our way through the third quarter with a couple spurts, but just couldn't compete in the fourth. I think back to back days had a hand in that, but Lake Leelanau really played well in the fourth quarter, so I won't take anything away from them. Thirty-one turnovers was the killer and most of them were in the second half."
Pelton had seven of the team's 11 points in the opening quarter as they held an 11-9 lead. Cadwell had a three in the second but Hale could only get a bucket by Cheyenne Dougherty as Lake Leelanau crawled to a 19-16 edge at the half.
Pelton had four points in the third and Harris netted two, though Hale fell further behind entering the fourth, 31-22.
Leading the team on offense was Pelton with 11 points, Parkinson and Cadwell had five points apiece and Harris and Dougherty had two apiece. Pelton also led the team in rebounding with nine. 
On Monday, Feb. 3 Hale dropped a NSL Little Dipper game at Fairview, 30-29. 
"This was a tough loss," Parkinson said. "We just lost momentum in the second quarter and we were flat coming out in the third. Our scoring was a little more balanced, and it was great to see Jori McKulsky shoot the ball a little more."
Hale led 8-4 after the first quarter but could only get a three by Parkinson in the second and its lead was only 11-8 at the half. Fairview had a 15-6 scoring edge in the third and was able to narrowly hang on for the win.
Cadwell led the team in this one with eight points, McKulsky and Pelton had six points each, Parkinson tallied five and Kimmerer put in four.
Hale (6-9 overall, 4-3 NSL Little Dipper) hosted Posen on Monday, hosts Atlanta on Friday and makes the trip to Mio on Monday. 
"We will find out a little more what we are made of over the next two weeks, but I really liked the energy and competitiveness we brought to the first half of Saturday," Parkinson said. "Hopefully we can build on that."