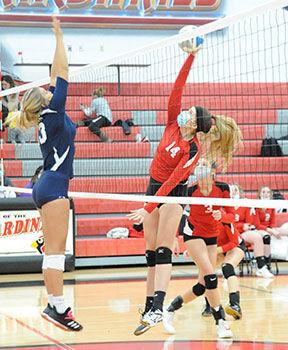 TAWAS CITY – The Tawas Area volleyball team wasn't able to hang with eventual district tournament champion Johannesburg-Lewiston on Wednesday. The Lady Braves, playing on Joburg's home court in a Division 3 district semifinal, dropped the contest in straight sets, 25-21, 25-22 and 25-23.
"I think we played a very strong match, we just came up short," head coach Carol Elowsky said. "Joburg is a very balanced hitting team and they have a really good libero. We just struggled to stay in system as they really targeted our setter in the second half of the match. We also had a few runs of problems in serve receive, but Tae Eberline came in and really did a great job getting our offense back on track with some really nice passing." 
Leading the way in the setback was Paige Barringer and Hanna Edmonds with six kills each, with Elise Klinger adding five kills. Kaylee Kaems also had a 10-point serving run in the third set, getting four aces during that spurt.
"In the end we just had a few too many small problems and Joburg capitalized on them," Elowsky said. "I was really proud of the team and felt that they played a really good match against a really strong opponent."
On Monday, Nov. 2 the Braves were able to reach the semifinals, thanks to a hard-fought five set win over Roscommon in their district opener, 18-25, 25-22, 25-22, 13-25 and 15-13.
"I think the girls played a very solid, well-balanced game," Elowsky said. "We knew going into this match that we had to contain their middle hitter and we did an excellent job with her. Klinger, our middle hitter, had one of the best performances of the season, not only in kills but in putting up a very strong block with Edmonds to shut down their middle." 
After dropping the first set, the Braves were able to pull off the next two to surge ahead. In the second set ended with a kill by Elle Brownell and a block by Klinger and Tawas carried that momentum into the third set, as it took a 5-1 lead. 
Roscommon did swing ahead at 12-11, but Tawas led 22-20 late in the frame and received spikes by Barringer, Edmonds and Klinger to help finish it off.
The Braves dropped the fourth set, but opened the fifth set with a 7-3 lead, though Roscommon drew to a 12-12 deadlock late in the frame. Edmonds led the way for Tawas' final three points, as she had points on a block, a tip-kill and a spike. 
Klinger and Edmonds finished with 10 kills apiece, Barringer had eight kills and five aces, Brownell had five blocks, Hayley Lingo added 23 digs and Kaems had 24 assists. 
"Barringer and Amanda Curry were very tough at the service line combining for nine aces on the day," Elowsky said. "I think that our serve receive was really solid and so was our defense against their taller hitters.  Elle Brownell as usual did a great job single blocking their second middle and that gave us the chance to really use the mistakes of their other outside hitter.  Kaylee Kaems really placed her sets in places that helped us avoid their blocks. I guess the balance of the offense was our key to winning along with our great blocking."
Tawas finishes the season 14-20 overall in a year that looked quite different due to the COVID-19 pandemic. 
"This season was hard from the moment we had tryouts but I think the girls were just happy to be playing," Elowsky said. "I know the schedule changes and not playing as many games during our season was a little bit of a challenge but I felt the girls really rose as the season went on. Our game play at districts was strong throughout and we had a very solid win against Roscommon in the first round."
The Braves annually churn out quality squads and rack up a solid number of wins, despite facing a difficult independent schedule. The coach hopes for another similar campaign next fall. 
"Next year's team will be another really strong team," Elowsky said. "This group had the advantage-disadvantage of being outside for five weeks and it was really great for our passing and defense. We have a really great setter coming back and some very strong hitters as well as some really great defensive players so they will be rock solid next year. Hopefully we will have moved on to a place where we can have a more normal season with a strong summer program leading up to our season."