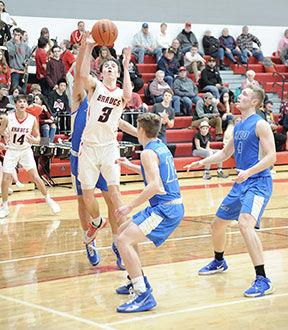 TAWAS CITY – With the regular season winding down, the Tawas Area boys basketball team just secured what was perhaps its signature win of the season Friday night. 
The Braves, hosting Mio, a team that has seen its name appear in the Division 4 rankings most of the season, were able to dominate the fourth quarter to pick up a 62-56 win.
"That was the best we have played all year and we did it against a solid team," head coach Todd Kaems said. "We talk about flipping the switch; you have to be able to play with relaxation on the offensive end of the floor but you have to play with a lot of urgency on the defensive end of the floor." 
While the game had been nip-and-tuck through three quarters, the Braves dominated the fourth. A three pointer by Noah Davis from the left corner gave Tawas a 54-43 lead and Nick Maynard, who had a career high 21 points followed with back-to-back buckets to stake Tawas to its biggest lead of the night at 58-45. 
"Noah passed up on some shots and took the ball to the hoop tonight which was really big, we've been working on that," Kaems said. "Maynard played with a lot of energy and he got out and ran and defended well. They were both really efficient." 
The Bolts did rally to pull within 58-54 with just over a minute to play, but Maynard and Davis converted at the line to finish off the six point win. 
"We go through some long spells without scoring, but this game it didn't happen," Kaems said. "We looked more comfortable offensively, that's for sure and I thought we got out and ran and finished in transition. We talked about Mio being a good transition team but I thought we won that aspect of the game which is pretty big for us." 
Also of note was the team's ability to shut down Mio standout Drew Hess. While he finished with 18 points, all but five of those came in the fourth quarter. 
"The two-three zone that we played definitely leaned on him," Kaems said. "My guess is that he doesn't have the green light to shoot a 24-to-25-footer so we leaned it on him and as long as he stayed at 20-to-21 feet it made it easier to take those shots away. It looked a little bit that he was apprehensive, I think part of that is from what we did and part of that is probably what they are doing with him." 
Eddie Klenow hit an early three to give Tawas a quick 3-2 lead and Maynard followed with a three that made it an 8-4 Brave advantage. Tawas still led at 14-11, but an and one play by Hess and a bucket in the paint by Rasmus Vindfeld gave the Bolts a 16-14 lead after one. 
Mio surged ahead to lead 25-21 midway through the second, though Davis canned a three to trim that to 25-24. 
Davis also hit a three pointer from the right corner right before the half, cutting the Mio lead to 29-27 at the half. 
Mio took its biggest lead of the night at 33-27 early in the third, but a short jumper by Camden Groff drew Tawas within 35-33 and a Maynard drive to the lane tied it up at 35-apiece. 
Mio swung back ahead 37-35 but Tawas close the half on a quick 8-0 run to lead 43-37 entering the fourth. 
Davis finished with 26 points, Maynard netted 21, Groff chipped in with 10, Klenow had three and Logan Gould had two. 
On Tuesday, Feb. 11 the Braves picked up a road win at Midland Calvary Baptist, 57-52.
Groff netted 17 points, Maynard had 16, Davis finished with 13, Klenow put in six, Gould had four and Kayden Spencer chipped in with two. Davis also hauled in 10 rebounds. 
Tawas (7-8 overall) hosted Standish-Sterling on Tuesday, is at home to play Ogemaw Heights on Friday, heads to Standish-Sterling on Tuesday and plays at Hillman on March 3.