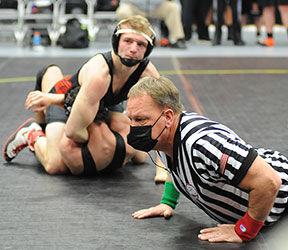 WHITTEMORE – With his team taking part in the Division 4 team state finals on Tuesday, March 30 at the Wings Event Center in Kalamazoo, head coach Russ Wilson knew his team didn't have much room for error. In the quarterfinals, their opponents from Leslie gave up crucial points in four voids, but the Cardinals couldn't cash in during the other matches, as their team season ended 44-36. 
"We knew it would be a one match swing, it just didn't go our way, I think the nerves got to us," he said. "We knew they were giving up four voids, but they had a tough line-up and we had a couple swing matches. The kids had a good experience; it sucks that we lost but it is what it is." 
W-P opened with losses in the 130, 135 and 140 weight classes, despite gritty performances by Caiden Balliet, Collin Kundinger and Dillan Parent, putting the team behind 17-0. 
In 145, Jesse Allen caught his opponent on his back, getting a surprising first period pin on a state qualifier to cut the gap to 17-6.
"That was big for us," Wilson said of Allen's win. "Jesse didn't even make it out of districts so they overlooked him." 
In 152, Kyle Fenner lost a key match on an 8-5 decision to make it 20-6, although Dakota Gagnon was awarded six points on a void in 160 to pull the Cards within 20-12. 
Leslie clinched the match with wins 171, 189, 215 and 285, despite the best efforts of James Morrison, Russell Wilson, Jesse Morrison and William Stothers. 
Trailing 44-12, Makayla Bowman earned a win on a void in 103, and in 112 Adrien Fragoso pinned his opponent early in the first period to make it 44-24.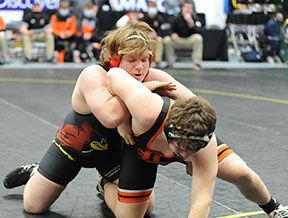 Eli Murphy and Devan Nader wrapped up the match with victories on voids in 119 and 125.
"I didn't have much play in my line-up, I wanted to cut a couple kids to a lower weight, but they couldn't do it so that forced me," Wilson said. "I knew they were going to stay away from Devan and Dakota. Russ came out tough, I think if he just had to win his match he would have but he knew he needed a pin."
The loss ends the team's season with a 26-1 record.
"I couldn't ask for more, it was a great year for the seniors who went 54-4 the last two years so that is a pretty good run," Wilson said. "I know they aren't going to forget that for the rest of their life. It was an amazing ride. When we walked into the Wings Event Center, the kids' eyes lit up and that is why we coach. The experiences that these young men and women have through sports is amazing." 
On Saturday, the Cardinals competed in the individual finals at VanAndel Arena in Grand Rapids. The Cardinals were able to get three members of the team on the podium. 
In 125 Nader earned a fourth place finish. Despite losing his first match, he was able to work his way through the losers' bracket to reach the podium.
Fenner placed seventh in 152. He claimed wins in each of the first two rounds, but lost his semi-final match before regrouping in the consolation rounds. 
Wilson, who was competing with an injured wrist, was also eighth in 189. He won his first match, but lost his second, leaving him to battle through the consolation rounds. 
Gagnon (160) and Jesse Morrison (215) went 1-2 on the day but did not place. Stothers (215) and James Morrison (171) also competed but did not win a match and Fragoso (103) and Balliet (130) could not compete due to injuries. 
"I thought the kids wrestled well, very proud of all of them," Wilson said. "I am losing five great seniors but we have some coming in and some more kids that should have been on the team this year coming out next year. We have some big shoes to fill, but I am thinking we will be alright. I think this year helped them out will get them ready for next year."