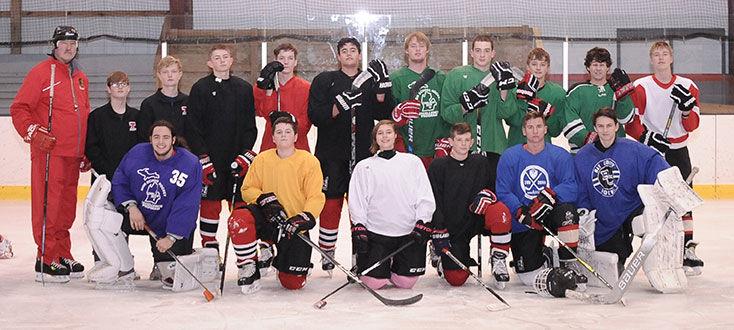 TAWAS CITY – The opening of the Tawas Area hockey season will have a playoff-like atmosphere this weekend. That's because the Braves, who enter their second year as a varsity squad, will be hosting a season-opening tournament at the Tawas Bay Ice Arena. 
"It's a fun way to start the season," head coach Mel Rettell said. "It's an opportunity for us to play teams that are comparable to us. I think all the teams in it are feeling pretty confident because they feel like they have a chance, since all the teams were at the bottom of the rankings last year. One of us is going to start 2-0 and that's not a bad way to start a season for a program that's starting to build." 
The tournament opens on Friday with Port Huron and Southgate Anderson playing at 6 p.m., with Tawas playing Grand Blanc at 8:15. The tournament's championship game is slated for Saturday at noon with the consolation game set to be played at 2:15 p.m.
While this weekend will be the team's first action, they team did get a glimpse of what's to come at a recent scrimmage in Alpena. 
"We were missing a few players, but we played Alpena, Midland Down and Dearborn," Rettell said. "Alpena and Dow are both solid programs and we struggled with them. Dearborn was a .500 club last year but we played well against them and I was encouraged by that. I have a few guys that haven't played in a few years, but the bulk of my players are second year players so we are pretty young still but it was still encouraging. 
Back from last year's team that went 6-18-1 are seniors Jeff Shirkey (forward), Ethan Haire (goalie) Jacob Barnes (forward), juniors Matthew Binder (forward), Darren Dembinski (forward), Zach Boker (goalie), Joseph Ernst (forward), sophomores Brayden Heemer (forward), Deakan Gerhardt (defense), Ben Bolen (defense), Sawyer Ulman (defense, forward), Aiden Berlin (forward) and Trevor Balagna (forward). New to the team will be junior Cain Hicks (defense) along with sophomores Kaden Trafelet (forward), Aspen Stockton (forward) and freshman Jackob Hazen (defense).
"My goaltenders are both returning, that's a huge plus for us to have those guys already with a season in," Rettell said. "It helps to have all these returning players, they've been around for a year so they kind of know what to expect. That's huge for us going into a season. They know how to handle it and prepare and we are looking for those kids to help us maintain for the upcoming season."  
Since it is just the Braves' second season as a varsity squad, the program is still trying to find its sea-legs, so to speak. 
"We don't get to take the ice until late, compared to the other programs," Rettell said. "We are just trying to get our legs, our timing down and get through the basics. That has been our focus on the beginning of the season. We are really anxious to get going here. This is our second varsity season but overall the youth programs seem to be doing much better this year. It all seems to be pointing up in the same direction, with them all on the same page which is exciting."
After this weekend's tournament, the Braves will also play at Southgate Anderson on Nov. 29 and plays at Grand Blanc Dec. 4. 
"Not being in a league, it is kind of tough to have many goals that you can put your finger on," Rettell said. "We will be like last year, in that we are just trying to get better every game and we focus on the state tournament at the end of the season as our big apple. We will have our ups and downs, we will try to improve on the downs and just keep trying to get better."