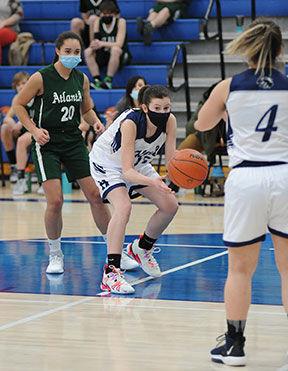 HALE – A scrappy Atlanta team had managed to hang around with host Hale in the two's North Star League Little Dipper girls basketball game on Tuesday, Feb. 16. The Lady Eagles led just 30-27 entering the fourth, but saved their best play for last as they dominated the final eight minutes to earn a 52-33 victory. 
"It was a big win for us," head coach Ryan Parkinson said. "We will take it, it did get a little tight there, but we had a good run in the first half and a terrific run in the fourth quarter." 
The fourth quarter started with a mid-range bucket by Erica Bernard and a three pointer by Claudia Cadwell to make it 35-27.
Abby Parkinson followed shortly after with a bucket in transition that made it 38-27 and Dalaney Kimmerer capped off the run with a fast-break bucket at 44-27.
Hale had an 8-6 edge over Atlanta in the final four minutes as the teams' played out the night. 
"Atlanta is scrappy, (Abbey LaPorte) is tough and she can finish with either hand," Parkinson said. "They try to play through her and if you let them, you are going to be in trouble. But, overall, there is way better athleticism across the board than what we have seen from most Atlanta teams in recent years." 
Parkinson hit a first quarter three and had five points total in the frame, though the game was deadlocked 13-apiece after one. 
Hale led 18-15 midway through the second and closed off the half on an 11-4 run, capping it off with a three and a transition bucket by Parkinson to make it 29-17 at the half. 
Hale led 30-19 early in the third, but Atlanta netted the final eight points of the frame to pull within 30-26 entering the fourth. 
"In the third, we couldn't put the ball in the basket," Parkinson said. "Other then that, we weren't playing terribly, we just couldn't make a shot or get an offensive rebound to help ourselves out. They made a couple buckets and all of a sudden it is a close game. We came out in the fourth and moved the ball pretty well and made those shots and that was the big difference in those two quarters." 
Parkinson led the way in the win with 25 points, eight rebounds, eight steals and four assists, Cadwell finished with 11 points, seven assists and four steals, Kimmerer added six points, four rebounds, three assists and three steals, Bailey Hewitt and Felicty Hicks added four points apiece and Bernard finished with two. Hewitt also had nine rebounds and Bernard tracked down eight boards. 
On Friday, Hale was able to pick up a low-scoring 28-26 NSL Little Dipper win over AuGres. 
"For the third game in a row, we got off to a slow start," Parkinson said. "Thankfully Dalaney got aggressive and put up points for us in the second half. We just had trouble putting the ball in the basket all night long but we were fortunate enough to make enough."
Kimmerer hit a three and had six of the teams eight first quarter points, as Hale led 8-6 after one. Hewitt, Kimmerer and Cadwell had two points each in the second quarter, as the Eagles held a small 14-10 lead at the half.
Parkinson put in four of the team's nine points in the third, as Hale held an edge of 23-16 entering the fourth. 
Kimmerer and Cadwell finished with nine points apiece, Parkinson put in six and with two apiece were Hewitt and Hicks. 
Hale (2-1 overall, 2-1 NSL Little Dipper) hosted Fairview on Monday, played at the Charlton Heston Academy on Tuesday, heads up to Atlanta on Friday and stays on the road Monday in Posen.