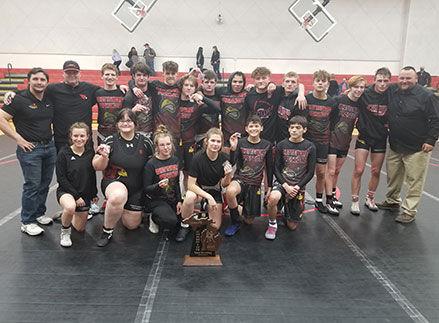 WHITTEMORE – Every point mattered in Whittemore-Prescott's Division 4 regional championship bout with Pine River on Wednesday. The Cardinals, hosting the regional, survived a late three-match losing streak to the Bucks, and received just enough to pull off the win, 36-31. This gives the team its first regional title since 2006 and advances them to the team state tournament. 
"It feels really good for the seniors," head coach Russ Wilson said. "Now the underclassmen know what it takes to win too, so it's just good. I'm losing some good seniors, but I have some kids coming back so I think it will make them work harder and harder. The kids know that it takes 14 spots to make that happen.
"I was so proud of my kids," he added. "They came out ready to wrestle. We have been scouting Pine River all year to get ready for this match-up. There is no better feeling than handing the trophy to the kids. They are the ones that deserve it."
The match started in 171, and though James Morrison lost in a 9-2 decision in that bout and Jesse Morrison lost in a 3-0 decision in 189, the points they saved by not getting pinned proved to be beneficial.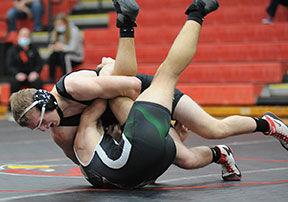 "It started off at a good weight for us, the Morrison brothers went out there and did their job and didn't get pinned," Wilson said. "We were down the first wo matches, but then we come out and get a pin in the next match and it is a tie." 
That 6-6 tie happened thanks to a first period pin by Russell Wilson in 215. While William Stothers was pinned in 285 to send the Cards behind 12-6, they were able to knot things up at 12-12 thanks to Makayla Bowman getting a win via void in 103. 
"We knew Stothers' match was going to go the way it was, but we knew in the next weight class they didn't have anyone," Wilson said. 
Eli Murphy had a big second period pin in 112 to put the Cards ahead 18-12, though the Bucks responded with a pin on Adrien Fragoso in 119 to put it to 18-18, with the match seesawing back to the Cards favor in 125 with Devan Nader getting a pin midway through the first period for a 24-18 lead. 
In 130, Caiden Balliet earned a crucial 7-6 win on a decision. Balliet claimed a 7-4 lead on a takedown in the third period, and he narrowly hung on in the final seconds for three points and the 27-18 advantage. 
The Cards dropped matches in 135, 140 and 145 by Collin Kundinger (9-3 decision), Dillan Parent (15-1 major), and Jesse Allen (pin), to slip behind 31-27 with two bouts left. 
In one of the best matches of the night, in 152, Kyle Fenner was able to grind out a 5-1 decision win, that pulled the Cards with 31-30, effectively winning the match when Dakota Gagnon was awarded a win in 160 thanks to a void.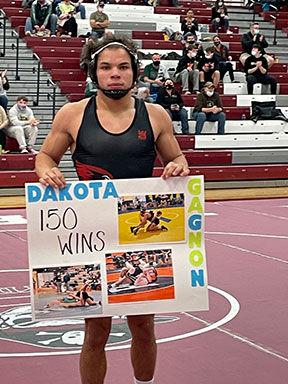 "Balliet had to get a win, if he doesn't get that we were in trouble," Wilson said. "With (Kundinger and Parent), we just couldn't get pinned. If we don't have that, we didn't have a chance. That put us in a good position because at 160 we knew we had six points in our back pocket and Fenner just had to come out and win. 
"It would have been a great night for me if I was just sitting in the stands and not having to worry about it, but that is wrestling. When kids can go out and (do their job), that is how you win." 
On Saturday the Cardinals traveled to Charlevoix for individual regionals, where they were able to get nine-of-13 grapplers to move on to the individual state finals at Van Andel Arena in Grand Rapids on Saturday. 
Nader (125), Gagnon (160) and Wilson (189) are regional champions in their respective classes, finishing second was Fenner (152), Jesse Morrison (215) and coming in fourth to also move on is Balliet (130), James Morrison (171), Stothers (215) and Fragoso (103). 
Also competing but seeing their individual seasons end were Kundinger (140), Parent (140), Faith Keller (285) and Murphy (112). 
"Hopefully we can have five kids place, but you never know, it is a one-day tournament this year and that is a lot of wrestling," Wilson said. "You have to have it that day and if not, it can be a long day of wrestling for you." 
As for the team state finals, which was held Tuesday at the Wings Event Center in Kalamazoo, the Cardinals, the number four seed, open against fifth seed Leslie in quarterfinals. A win there would likely pit them against state powerhouse and top ranked Clinton in the semifinals. 
"That is a good seed for us, we have a good chance of getting by Leslie," Wilson said. "Then comes the number one team in the state, but we will be worried about that when we get there. I told the kids I am not satisfied and we want to beat Leslie to give us a chance in the semifinals. The kids are excited and we are taking all 18 kids. It is going to be a lot of fun."