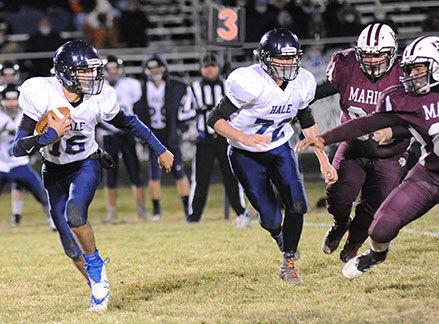 HALE – With a chance at history on the line Friday night, Hale couldn't quite deliver. The Eagles, playing a division two 8-man regional championship football game at Marion Friday night, committed four costly turnovers, in what turned into a 14-0 season-ending loss. 
"It is always tough when the season comes to an end and I think the farther you make it, the harder it is to handle that loss," head coach Grant Kortman said. "The toughest thing is it is the seniors last game ever and it is an emotional scene there; it is tough to see that."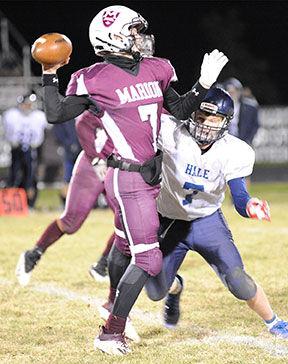 The loss brings an end to what was otherwise a breakout season for the Hale football program. The team won its first two playoffs games in program history, set a program record for most points scored in a season (368) and gave up its fewest (100) since 1971. The Eagles had hoped to add their first ever regional championship to the list but a tough Marion squad had other ideas. 
"I'm so proud of the team, they've done a great job this year," Kortman, who was only hired days before the start of the season said. "There were crazy circumstances all the way around, from the canceled season to the restart; I'm proud of the guys. I'm happy the seniors had the season that they did. I was hoping to win a championship, they were deserving and the community was deserving but we came up short. Hopefully we can come back even better next year and get a championship then." 
The first half went by rather quickly, with both teams trading scoreless possessions. Hale's first offensive drive reached as far as the Marion 38-yard line, but an incomplete pass on fourth down put a halt to it. 
It's second drive was able to pick up a pair of first downs, but it also stalled out after back-to-back near misses on passes by quarterback Robert Rosebrugh. 
Late in the half, Rosebrugh did complete a long pass down the right sidelines. The receiver hauled in the pass at the 35-yard line, reached as far as the 30 before a Marion defender tracked him down and stripped the ball away. Marion recovered the fumble and returned the ball near mid-field, giving it a momentum swinging possession. 
Fortunately for Hale defense rose to the challenge, as it kept Marion out of the endzone, though they narrowly survived a dropped pass near the end zone. 
"They were the best team we have seen all year, for sure," Kortman said. "They were more physical than I anticipated. (Assistant coaches) Doug and Chris (Bernard) put together a good defensive game plan. We gave up just 14 points and that was fantastic." 
Marion was able to break the stalemate on its first possession of the second half. The first 10 plays of its drive were all on the ground, nut it ran play action on a second-and-seven from the 10-yard line. The Marion quarterback lobbed a perfectly placed ball for his receiver, as he was able to come down with it in the endzone, despite blanketed coverage by David Wanty. A successful two-point conversion put Marion ahead 8-0 with 6:20 to play in the third.
Hale would fumble the ball away and toss an interception before the night ended and a 29-yard touchdown pass by Marion with 4:24 to play all but sealed Hale's fate.
"Offensively, I thought we had a good game plan but in 48 minutes we didn't find the end zone and didn't put any points on the board and that falls on me," Kortman said. "We had some costly turnovers. We were in pressure situations. I think we faltered a little bit there, but it just wasn't the right play calls in the right situation. I didn't put us in the right situation to success at that time." 
Hale tallied just 129 yards of total offense in the game; easily its lowest amount of the season.
"We really struggled to block them," Kortman said. "I didn't anticipate their defensive line being that good; it was tough to find a weakness on their defense. They were solid and they took away most of the stuff that we wanted to do."
Rosebrugh finished six-of-12 passing for 52 yards and an interception, and he also rushed 14 times for 52 yards. Keaton Ludwig had two catches for 21 yards, Kevin Kesler had 18 yards rushing and seven receiving and Wanty had 14 receiving yards and seven rushing. 
Ludwig had another monster game on defense, getting 19.5 tackles. Rosebrugh had 9.5 tackles, Kesler had 7.5, Wanty had seven, Jesse Francisco had five tackles and one sack and Mike Koepke had four tackles.
The loss ends Hale's season with a 7-2 record. After a delayed start to the year due to COVID-19, the Eagles lost their first game of the season to Atlanta, but rattled off seven straight wins from there, including convincing playoff victories over Posen and Brethren.
"Definitely a good year, we did some stuff that had never been done before in the history of the program, and winning those playoff games this year was really cool," Kortman said. "The community really rallied around us and that was big to see; this hasn't really happened with the program before. We are losing a lot of good players but we are bringing back a lot and if COVID allows us, we are going to work hard. We don't want this to be a one year wonder, we want to compete for championships every year and I am going to do everything in my power to put us in position to do it."