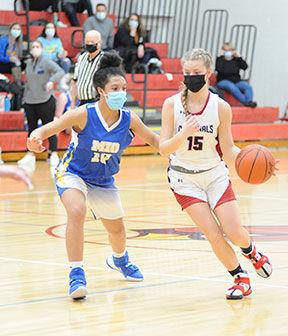 WHITTEMORE – Whittemore-Prescott saw its girls basketball team trail by 15 points entering the fourth quarter of its home North Star League Big Dipper game with Mio Thursday night. The Lady Cardinals made things interesting in the closing minutes, but weren't quite able to get over the hump as they suffered a 47-40 setback. 
"They haven't had many games with chances to make a big comeback the last few seasons, so that was a learning situation for them for sure," head coach Sarah Gibson said. "Now, if only we could harness that enthusiasm for the other three quarters, we'd be all set." 
W-P, trailing 41-26 entering the fourth, began the final stanza on a 6-0 to claw within 41-32. Allie Schmidt started off the streak by hauling in an offensive rebound and sending the ball in and Camryn Gibson followed by draining a three pointer. Schmidt capped off the run by splitting a pair of free throws. 
Mio answered with a three pointer to stake its lead to 44-32, but Schmidt struck back with a three ball of her own and the Cards pulled within 45-37 on a basket in the paint by Brielle Wanks. 
The Lady Thunderbolts struggled from the line in the fourth quarter, making just three-of-15; including eight misses in the final two minutes alone. 
W-P wasn't able to cash in enough on the missed free throws however, as the closest they got was 46-40 on a transition bucket by Schmidt with about a minute to play. 
Mio did split a pair of free throws with eight seconds to play to finish off the Cards, who are still looking for their first victory, at 47-40.
"It's definitely a slow start to our season, but I see so much progress," Gibson said. "I pretty much changed everything they have ever known on the court, and we had only five real practices before this game because of the contact rules and the random snow storm that hit only Whittemore last week, so we knew it was going to be harder for us than the other teams. We'll just keep chipping away and working. Our time will come, and we'll be ready."
Mio held a slim 11-8 lead after the first quarter, and led 22-16 at the half. The Bolts saw their lead swell to double digits at 30-19, and a pair of threes late in the frame gave them their biggest margin of the night, 41-26 entering the fourth. 
Leading the way in the loss was Schmidt with 16 points, Americus Caron netted 11, Gibson finished with eight, Sarah Santiago netted three and Wanks finished with two.
"Sarah and Cam are pulling down boards on both ends again and Kylie Billeter is getting in there now, too," Gibson said. "Sophomore Brielle Wanks is only playing less than one quarter a game (new five quarter rule) and putting some points up and she was able to get four defensive rebounds in that short amount of time."
On Monday, Feb. 15 the Cardinals lost a non-league game at Roscommon, 53-47.
"Lost a great game, a battle from the free throw line at the end," Gibson said. 
W-P had first quarter threes from Schmidt and Santiago to help them hold a 15-8 lead after one, though the Lady Bucks hung around at the half, trimming W-P's lead to 24-18. Roscommon swung ahead in the third, holding a lead of 36-34 entering the fourth and managed to hit 11 free throws in the final frame to salt away W-P's comeback efforts. 
Schmidt finished with 17 points, Santiago finished with 10, Gibson hit three treys to net nine points, Billeter and Skylar Swanson chipped in with four apiece and Caron had three. 
W-P (0-3, overall, 0-2 NSL) was at Rogers City on Monday, hosts Big Dipper leading Oscoda on Friday and hosts Alcona on Monday.