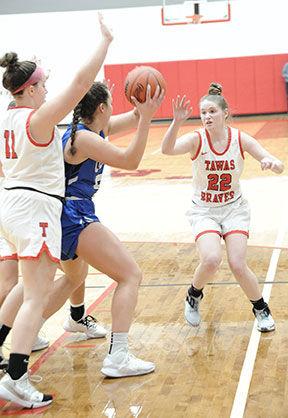 TAWAS CITY – A season high in points through the basket. A season low allowed. The Tawas Area girls basketball team set season-best marks on both sides of the ball on Thursday topping visiting Whittemore-Prescott 60-20.
"This was a nice win for us," Tawas head coach Lindsay Lewandowski said. "We got right after it at the tip and took care of business. I think we had a big advantage in experience, our six seniors really stood out." 
Most notably was Tawas senior Carley Bolen. The Braves' leading scorer showed early on why she is one of the areas' top offensive players with a 15-point opening frame helping Tawas to a 21-9 lead after the opening frame.
"Carley coming out and having 15 points in the first quarter really got us going," Lewandowski said. "When she starts out that good, everyone else seems to follow. I definitely saw others step up in this win too; on both ends of the floor." 
Lexi LaJoice kept Tawas rolling early in the second getting buckets on back-to-back trips down the court giving the Braves a 27-9 lead. 
Olivia Wallace followed this with a fast-break lay-in as she hauled in a long pass from Bolen to make it 30-9.
W-P's Ali Schmidt stopped the bleeding momentarily by getting a mid-range jumper to fall at 32-9, but a fast break hoop by LaJoice helped push the Tawas lead to 35-11 by the half.
"Rough outing, I tell you Bolen is for real," W-P head coach Jayme Nickell said. "Once again our lack of execution caused us to struggle and hit about eight percent from the field." 
Bolen started the second half by netting a short jumper, and Wallace followed with an offensive rebound and a bucket and Wallace also had a short bucket fall through for a 41-11 lead. Bolen also had another bucket late in the frame, as the Braves controlled the game entering the fourth with a 44-18 lead. 
The final frame was highlighted by eight more points by LaJoice, four more from Bolen and a three from Abby Colburn.
In all the Braves had Bolen finish with 21, LaJoice netted 19, Wallace had six, Kori Schaaf and Ally Frank had four apiece, Colburn had three and Sarah Murringer netted one.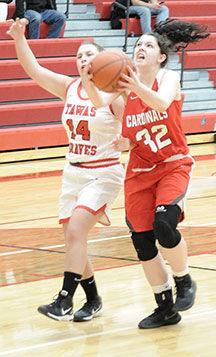 The Lady Cardinals had Cameron Gibson get six points, Sarah Santiago and Schmidt had four points apiece, Paige Zilinsky had three, Americus Caron added two and with one was Brianna Listeman. 
On Monday, Feb. 3 the Braves lost a home game to rival Oscoda, 46-38. This was the third straight time the Lady Owls have topped Tawas, though the Braves were able to give heavily favored Oscoda a run for its money.
"I think my girls stepped up defensively in this game," Lewandowski said. "We had a plan to limit their top players and I think we accomplished that. Offensively in the end though we just couldn't finish. I'm seeing a lot of small improvements from every single player right now. They are pushing themselves and it is starting to show in our games."
The Braves led the game 7-5 after an early bucket by Wallace, though Oscoda closed the frame on an 10-2 run to lead 15-9 after one. 
The Owls took a double digit lead of 22-11 midway through the second, though a pair of free throws by LaJoice and Bolen hit three-of-four from the line to keep Tawas within 26-16 at the half. 
The Braves started the third on a 10-2 run to pull within 28-26, with LaJoice capping the spurt off with a short-range bank shot. 
Tawas forced a miss on Oscoda's next possession and nearly took the lead, but a Bolen three pointer rimmed out. 
The Owls raced the other way and canned a trey to claim a 31-26 lead, though Bolen answered with a  drive through the lane to trim it back to 31-28 and Oscoda clung to a 35-32 lead entering the fourth. 
Tawas fell behind 41-34 with 2:55 left to play, and though a pair of Bolen free throws closed that gap to 41-38, Oscoda finished the game by hitting five free throws. 
Even though her team came up short in the end, Lewandowski was encouraged in their performance against the team that is widely considered the best in the North Star League. 
"I have believed all along that we can compete with the top teams in the area," she said. "I think this game was important because the girls finally saw their potential. We really just need to keep working hard so we are playing our best come districts."
Tawas (5-11 overall) made the trip to Midland Calvary Baptist on Tuesday and is off until Thursday, Feb. 20 when it hosts Ogemaw Heights. 
W-P also played at Alcona on Monday, Feb. 3, when it lost 46-31 in a North Star League Big Dipper battle. The Cards held an 8-5 lead after the first quarter but the Tigers rolled from there, jumping to a 20-10 lead by the half and held a 37-19 gap entering the fourth. 
Leading the Cards was Santiago with 11 points, Schmidt netted seven, Trish Nichols scored six, Caron added five and Zilinsky had two. 
W-P (4-10 overall, 2-4 NSL Big Dipper) had its home game with Mio on Monday postponed due to weather, with no make-up date announced as of press time. The Cardinals plays at Oscoda on Thursday, hosts Posen on Monday and remains at home on Thursday, Feb. 20 against Fairview.