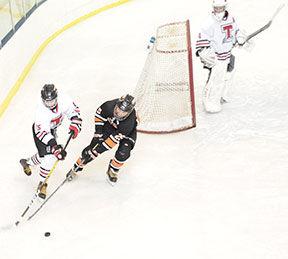 TAWAS CITY – Tawas Area struck first. Cheboygan rolled from there. The Braves' hockey team couldn't snap its losing skid on Saturday, falling to the Chiefs 10-3 at Tawas Bay Ice Arena. 
"They have a lot of speed and they have a couple talented kids on that team that could up and down pretty well and we couldn't match that," head coach Mel Rettell said. "There was no way we could answer." 
The game started about as well as Tawas could have hoped for. Just over 30 seconds into the contest, netminder Ethan Haire showed off his quick-hands with a solid glove save on a short-range blast. About 30 seconds later, Jeff Shirkey, the team's leading scorer was able to win a loose puck near center ice. He dashed the other way without a Cheboygan defender in his sight, put on a quick dance-like move in front of the goalie and flipped the puck into the back of the net for a 1-0 lead just 52 seconds into the game. 
The Braves were able to hold the lead for about three minutes, when they gave up a power play goal. With 8:30 to play in the opening period Cheboygan netted its second goal to make it 2-1 and the Chiefs claimed a 3-1 lead about 20 seconds later after getting a shot to barely sneak by Haire. 
The Braves skated on a 5-3 advantage for almost two minutes late in the period. During this time, with just under four minutes to play, Shirkey delivered a centering pass for Ben Bolen. Bolen had a view of an open net, but the Cheboygan defense prevented him from getting a clean shot off to preserve its two goal lead. 
The score remained 3-1 through the end of the first period, though the Chiefs were able to add two early second period goals to claim a 5-1 advantage with 14:38 left.
A bit of misfortune struck the Braves in the ensuing minutes. Just 20 seconds after falling behind 5-1, Joey Ernst corralled a loose puck in front of the net and back-handed it in for what appeared to be the team's second goal. The play was called off however due to goalie interference. About five minutes later Trevor Balagna had a shot that beat the goalie, but hit the post and bounced back into play. 
"You get a goal and they wave it off, it's hard," Rettell said. "We have a hard enough time getting goals so it's tough when you lose one. You get behind the eight ball and things kind of snowballs." 
The game remained 5-1 until Cheboygan scored just 20 seconds into the third period to stake claim to a 6-2 lead. Ernst was able to draw Tawas within 6-2 by slapping in a pass from Bolen. Cheboygan claimed an 8-2 lead before Shirkey netted his second goal of the night to make it 8-3, though the Chiefs finished off the win with a pair of goals in the final minutes. 
"We are already short and we played back-to-back games and that's hard for us," Rettell said. "That is why I really wanted to coach a team like this though. I Know the kids are going to give it their best all the time and that's great." 
On Friday the Braves played a road game at Mt. Pleasant, falling 6-1. 
"They just keep working, they don't quit," Rettell said. "I was just super proud of them at Mt.  Pleasant, we pretty much had two lines due to missing kids on the team. We have kids going out every other shift… Mt. Pleasant took some liberties with us but our kids didn't retaliate and played hard and just laughed." 
Matt Binder had the team's only goal, getting an assist by Shirkey. Haire faced 78 shots on net
"Ethan played really well, he played outstanding and the shots that beat him really had to beat him, otherwise he would stop it," Rettell said. "The kids just played their hearts out. They beat us on the scoreboard but they sure didn't beat us." 
Tawas (2-18 overall) plays Manistee today (Wednesday) at Cadillac's Wex Ice Rink. The Braves head to Gaylord on Friday at the Otsego County Sportsplex, hosts Davison on Saturday and hosts Manistee on Friday, Feb. 21. 
"The kids all have good attitudes and keep plugging along and keep working at it," Rettell said. "We are going to get one here, we aren't going to quit."