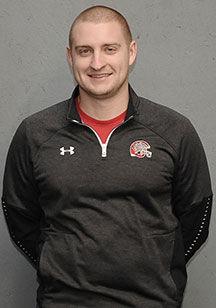 TAWAS CITY – It is safe to say Aaron Hazen lives and breathes football. Hazen, who was named the new varsity head football coach at Tawas Area last week, is more than excited to take on the task of being atop the Braves' program. 
"It feels like a dream," Hazen said. "Football has been a huge part of my life for a long time and it has always been a dream to coach and pass along my love for the game." 
Hazen attended Troy Athens High School and advanced to play collegiate football at Hope College, where he played outside linebacker and defensive end. From there he had stops as a volunteer assistant coach at AuGres and West Ottawa High School. Hazen was hired as an English teacher at Tawas Area Schools before the start of the 2018 school year and assisted the varsity football team as well. The past fall he was the head junior varsity football coach at Tawas. 
Now he will take over the Braves, who were coached by Tim Webb since the 2006 season. 
"Football has always been a huge part of my life and has helped shape who I am as a person," Hazen said. "When the position opened, I saw this as an opportunity to continue to be involved in the game that I love so much. Tawas athletics has had a tradition of excellence and we plan to continue this tradition. This new position allows me to spread my love for the game on to others and build future leaders for this community."
Since Hazen is no stranger to the program, he is hoping that his experience with the players can help him moving forward. 
"I know the kids, this is my second year teaching in the middle school and I have had almost all of the future high school players in class," he said. "I have been around the program for two years now and I have developed relationships with those kids as well. While coaching them I have learned their strengths and how those strengths can be utilized on and off the field. The last two years have made for an easy transition where the kids already knew me and my coaching style. We can hit the ground running and start working towards our goals." 
While Hazen is confident the Braves will find success on the football field, he isn't putting the cart in front of the horse. 
"One of my favorite sayings is 'Our players are student-athletes. They are students first, athletics second'," he said. "This off-season we have two goals. Goal number one is making sure our students have the tools they need to be successful in the classroom. Whether it is study or organizational skills, to be a successful team, we need to be successful in the classroom. Goal number two is to get our guys in the weight room. Our season starts during the winter months where we work to get bigger, faster and stronger in preparation or the coming season. We have already implanted a new lifting program to help develop our younger athletes and continue to build on the speed and strength of our older athletes." 
Hazen plans to bring in a wing-T style offense, with a few modern updates. 
"There are a lot of if-then scenarios that take advantage of what the defense gives up," he said of his offensive scheme. "Our system will be designed to attack at multiple levels. We believe this to be the best system for our kids because it teaches traditional football basics, puts them in a spot to be successful, gives them choices based on these rules and principles, and is a lot of fun to play."
On defense he hopes to have a simple, yet attacking-approach.
"We are going to use a basic scheme to put our players in the best positions possible," Hazen said. "On the defensive line, we are going to ask our linemen to hold a specific gap and our linebackers to bring pressure. Our basic scheme will allow different players to bring pressure from different angles and positions. We believe this is to be the best defensive philosophy because it keeps offenses guessing as to where the pressure is going to come from."
So, when the Braves officially kick-off the season this fall, it will usher in a new era under Hazen. 
"I am excited for what the future holds for Tawas football," he said. "I hope to continue to build leaders both on and off the field. As a JV coach I had the opportunity to work with our up and coming players, I am excited to watch these kids excel on and off the field in the next couple of years."