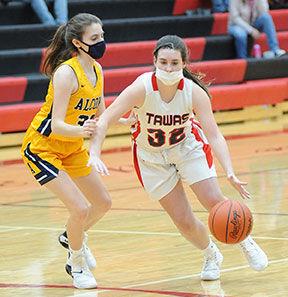 TAWAS CITY – The Tawas Area girls basketball team had been waiting to start its season since November. When it finally hosted Alcona on Tuesday, Feb. 9 in their season debut, the Lady Braves waited a little too long to get going, as they fell into an early double-digit deficit and could never recover, falling 56-25.
"Alcona is a good team and we fell in a hole quickly," head coach Jim Gorman said. "We managed to compose ourselves and get back into the game with a nice run at the end of the first quarter and had a decent second quarter. However, we just didn't handle Alcona's half-court trap well and their size advantage added to that."
Alcona scored the first 19 points of the game, though a field-goal and a three pointer by Kori Schaaf allowed Tawas to draw within 21-6 after one. 
A drive to the lane by Abby Herbolsheimer and a bucket in transition by Schaaf allowed Tawas to pull within 21-11 early in the second, and a free throw by Reese Cadorette kept the Braves down 10 at 25-15 late in the half.
Alcona closed out the frame with a long two pointer at the buzzer to take a 29-16 lead at the break and dominated the third quarter with an 18-2 edge to take a 47-18 lead into the fourth. 
Cadorette had a strong fourth quarter for Tawas, netting six points as the teams played to the 56-25 final.
"Overall, our girls continued to play hard the entire game and continued to compete until the end," Gorman said. "Reese had a nice varsity debut and I thought Kori did some good things."
The Braves were led by Cadorette with 12 points, Schaaf netted seven, Herbolsheimer added five and Lindsay Chatt added one. 
On Saturday the Braves hosted Midland Calvary Baptist, dropping that contest 53-34.
"Calvary Baptist couldn't miss in the first half and when we had to extend the defense they were able to make us pay," Gorman said. "I felt that we played better and again our girls continued to play hard the entire game and continued to compete until the end.  Reese and Kori both again did some good things and I also felt that Herbolsheimer, Elise Klinger, Chatt and Olivia Morand played much better in terms of rebounding and defense."
Tawas was behind just 10-7 after the first quarter, but trailed 26-14 at the half. The Braves closed the gap slightly in the third, pulling within 35-25, but couldn't draw closer in the final stanza. 
Cadorette led the team with 11 points and seven steals, Schaaf had seven points and seven rebounds, Morand added five points, four rebounds and three steals, Sarah Murringer added four points and Klinger had one points, five rebounds and four steals. 
Tawas (0-2 overall) was at Alpena on Tuesday, is at Oscoda Thursday, hosts Ogemaw Heights Friday and is at Alcona on Monday.