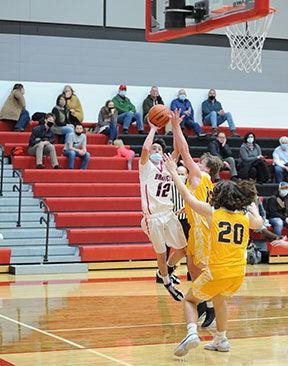 TAWAS CITY – Tawas Area and Ogemaw Heights swapped small leads through the first half of Thursday's boys basketball contest. The visiting Falcons picked up their play in the second half however, handing the Braves a 57-41 setback in what was their second game of the long-delayed season.
"The other night (a win at Byron) we rebounded really well and this game we didn't," head coach Todd Kaems said. "That was the difference, we got hurt on the glass. We haven't worked on any defensive structure, we haven't worked on any rebounding and we haven't worked on any defensive fundamentals really. Monday (Feb. 8) was our first practice and we played Tuesday and we have been trying to get some offensive structure in for these games and even that looked sloppy. Defensively, we struggled and it was glaring on the glass, we weren't very successful at that." 
Tawas had baskets by Gabe Kaniszewski, Caleb Stone and Eli Gonzalez in a low-scoring first quarter, as the game was knotted at 6-6.
A three pointer by Kaniszewski inched Tawas ahead 13-12, and though Ogemaw hit a three pointer on its next possession, a put-back basket by Ethan Hedglin drew the game to a  15-all deadlock.
Gavin Dukaj put Tawas ahead 17-15 late in the half, but an and-one play right before the break gave Ogemaw an 18-17 lead into the locker room. 
A three by Alex Kaems kept Tawas within striking distance, down 31-28 in the middle of the third, but the Falcons closed the period on a 9-1 run to claim a 40-29 lead entering the fourth. 
Dukaj drove through the lane to trim the lead back to single digits at 40-31, but Ogemaw drilled a three pointer the other way and the Braves never got back closer than 10. 
"We don't really know what we have as a team yet," Kaems said. "We have to be more physical than other teams. That doesn't mean we have to be stronger or bigger, we just have to make sure that we don't get physically manhandled and that's it. That is what we will work on this week." 
Dukaj paced the Braves with 12 points, Kaniszewski finished with nine, Vinnie Frank netted five, Nick Maynard scored four, Kaems and Stone had three points apiece, Hedglin and Gonzalez added two points each and Rodney Reedy had one point. 
On Saturday, the Braves hosted Midland Calvary Baptist and came up short, 49-35. 
Tawas trailed 17-11 after the first quarter, 23-18 at the half and 33-24 entering the fourth. 
Granite Barringer led the Braves with 15 points, Nick Maynard scored five, Vinnie Frank added four, with three points apiece was Dukaj, Gonzalez and Kaems and Kaniszewski chipped in with two points. 
Tawas opened the season at Byron on Tuesday, Feb. 9 with a 53-46 victory. 
The Braves led just 15-13 at the end of the first and led 24-18 at the half. Entering the fourth it was a 38-35 Tawas lead. In the final quarter, Maynard hit a three and hit four free throws, with Frank and Gonzalez also making a pair of free throws each to help close out the win.
Gonzalez led the Braves with 12 points, Maynard finished with nine, Reedy scored eight, Kaniszewski netted six, Jace Lear chipped in with five, Frank and Stone had four points each, Kaems added three and Evan Mochty netted two. 
Tawas (1-2 overall) hosts Oscoda on Friday and hosts Pinconning on Wednesday. 
"It was a strange first week for sure," Kaems said. "First week of contact practice and three games. We have a lot of work to do and a lot to figure out, but we need to find a way to generate scoring. Will be nice to have a few consecutive practices this week without a game until Friday."