It's a Sunday afternoon at Brenda Gowan's home, and most of her family is in the kitchen seeking more counter space. Fresh cucumbers, banana peppers, mushrooms and an assortment of vegetables are laid out evenly in Tupperware across the kitchen as she and her family diligently meal-plan for the week.
"For my husband, Mike, and me, it has really been an eye-opener," says Gowan, who now routinely follows a plant-based and whole-foods diet. "For me, I am losing weight. My little aches and pains are gone, and when I am eating 100 percent compliant I just can't believe how great I feel — more energy, sleeping great and the refined sugar fog is gone."
Gowan and her family have always eaten relatively healthy, but not to the extent of their routine plant-based and whole foods lifestyle, which prohibits oils, dairy and added sugar. As the senior payroll and benefits clerk for Williamson Central School District, as well as the staff wellness co-coordinator, Gowan was introduced to the plant-based diet in early January when the FLASHP consortium participated in a 10-day plant-based food challenge. To the astonishment of the consortium, more than 1,300 people participated.
Initiated by Doug Schmidt and Smola Consulting Health and Wellness Coordinator Rick Amundson, the challenge introduced staff members to the benefits and asked them to avoid looking at it as a diet, but as a lifestyle change. About three weeks after the challenge, Schmidt sent out a survey and received roughly 400 responses. Out of the 400, some said they wouldn't continue the diet, but most said they would stick with it or at least a variation, such as eating plant-based for two out of three meals.
"It's a journey," says Schmidt, health and wellness coordinator and enrichment teacher at Victor Central School District, who turned to a plant-based diet after suffering a heart attack at age 49. "You're trying to change a lifetime of habits, and those don't give way easily. So, be kind to yourself. I don't expect everyone to eat like me, but if I can help people be a little bit healthier, then that's terrific."
How Life Has Changed
One of the guarantees that Schmidt told participants they would see in the 10-day challenge was a decrease in biometric screening numbers in some form, including cholesterol and blood pressure. Many also lost weight.
Schmidt was never diagnosed with high cholesterol, but his range was more than 150. Having a total cholesterol of less than 150 is ideal, according to the Framingham Heart Study, which since 1948 has been identifying common factors or characteristics associated with cardiovascular disease. Today, Schmidt's cholesterol averages about 123, and his weight dropped from 225 to 165.
"It took you 40 years to have the high cholesterol, so don't expect it to go away in just a month," he says. "But everyone who responded to the biometrics, every single person, had a drop in total cholesterol. That also tells the power of this. Nutrition is powerful, and we don't think of it. We put that thought of nutrition aside thinking how can it really affect things."
Jennifer Hutches, a guidance counselor and wellness and activity coordinator at Dundee Central School, says she has struggled with maintaining a healthy weight much of her life. She started the challenge early to help answer questions and support participants. She has been plant-based and whole foods ever since.
"Now, it's just a lifestyle, so I really don't think about the days anymore like I did in the beginning," Hutches says.
Hutches has lost about 24 pounds, but she stresses that for those looking to lose weight it is a slow process. She says she lost about a pound or two a week at the beginning of the challenge, and then her body adjusted. She also encourages those who are going plant-based to set a plan and stick with it, because preparation is key.
"You will absolutely see results if you stick to the plan, and I think you have to go all in for those 10 days," she says. "Then you see the results, and then you say you're going to try it a little longer. That's what happened to me. The next thing you're saying is that you really want to do this and stick with it."
While Zoe Kolczynski is not completely plant-based today after the challenge, she says it inspired her to become more aware of what she eats, which has greatly improved her lifestyle. Her biometric levels decreased, and she lost 12 pounds.
"It's just the awareness," says Kolczynski, the school business official for Marcus Whitman. "I think differently about food."
For breakfast and lunch, she now stays away from any meats and makes sure to incorporate more fruits and vegetables. She's also found that she's sleeping better and has more energy. "It was amazing how much better I felt," she says.
Inspiring others
Many were skeptical of the plant-based diet, including Hutches' own family and those who were ready to compete in the 10-day challenge. But once they see the results, it's less enticing to go back to the traditional American diet, which is typically high in fat, sodium and sugar. Hutches also knew she had made a lifestyle change when she went on vacation and wasn't tempted to indulge in foods outside of her diet.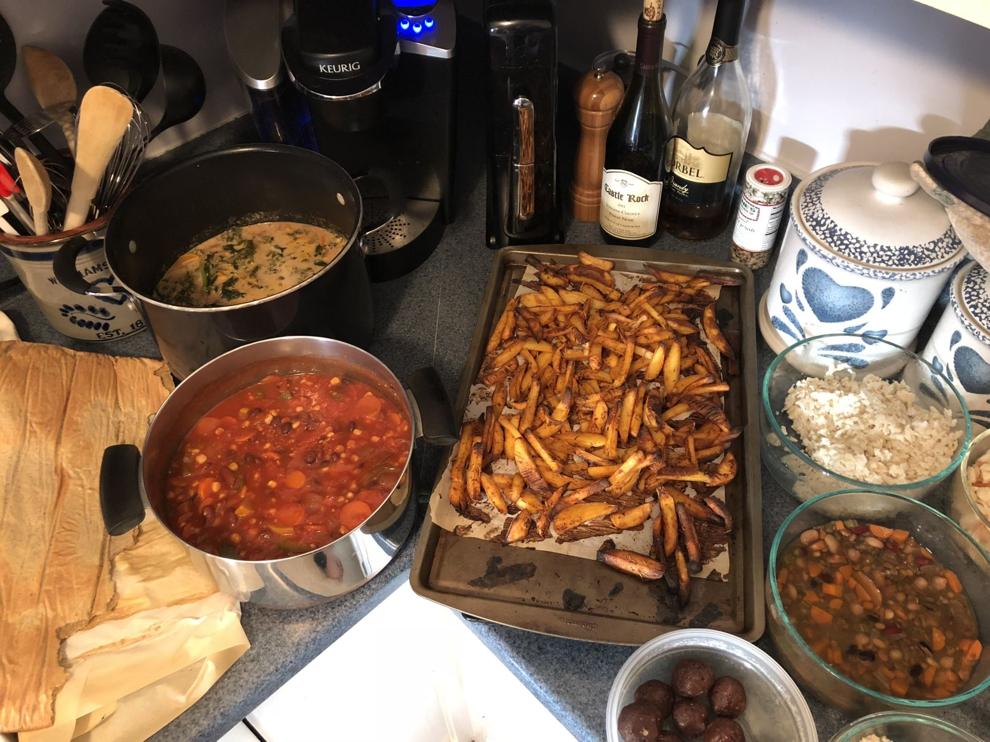 "Once people do it and see the results, they can't argue with it," she says. "I could've easily gone crazy on vacation, and I didn't want to. That made me feel good that this is the way I want to live even when I'm on vacation. This is how I want to be."
Kolczynski had an abundance of support from her husband, and even her son started eating some of the recommended foods. With taking those steps to improve her life, she now says she is sleeping better, has more energy and finds that she doesn't need all the toppings on her pizza.
"That's all you need to do once in a while," Kolczynski says. "You don't have to get rid of everything, but I think it surprised my son that he didn't mind it either."
Since the challenge, Gowan's total cholesterol has gone from 221 to 152, and her husband's went from 186 to 81. Her HDL cholesterol also went from 69 to 48, and his went from 43 to 38. She's noticed she has less aches and pains, she's sleeping better and has more energy.
"At first I didn't notice it," says Gowan, who also contributes much of her success to Amundson and Schmidt for making it possible for anyone to participate in the challenge and for providing knowledge and inspiration along the way. "But then once I got past day six, I could run circles around things. Usually at 1 or 2 p.m. in the afternoon I hit a wall, but I didn't experience that, and I haven't experienced that. However, when I've gone off plant-based, I can definitely feel the difference. You just feel foggy."
Now that the plant-based diet is gaining popularity, especially after hearing the results, many organizations have contacted Schmidt to help lead another challenge. While those discussions are still taking place, Schmidt says he is still astounded by the efforts of this past challenge and the turnout. Success stories are still pouring in, as he frequently receives stories about how the plant-based diet changed lives.
"Next year, we could have 3,000 people do the challenge, and that would be something else," Schmidt says. "When we went into this, I said if we reach just one person it will be worth all the time and effort. It was definitely all worth it."
This article was originally published in Community Health for Finger Lakes Area School Health Plan.