"Yoga is not an exercise program," says Amita Bhagat, certified Iyengar yoga teacher and owner of Sadhanaa Yoga. "Yoga poses feel like exercise, but they are not just for the physical body. They tone and rejuvenate the organs, and if you do them in a certain way they can reach inward to the cellular level."
That "certain way" Bhagat refers to is a traditional style of yoga called Iyengar (eye-yen-gar), which emphasis both physical and spiritual alignment. And, unlike the multitude of yoga's more contemporary offspring, Iyengar's roots are grounded in deep and humble intentions.
Named after Iyengar creator and yoga master, B.K.S. Iyengar, who practiced for 80 years, often 10 to 12 hours per day. Iyengar saw the poses as a form of meditation in action. Using his body as a laboratory, he carefully studied the effects of the poses. He wanted everyone — regardless of physical, mental or emotional limitations — to reap the benefits.
It was Iyengar who developed the use of props such as straps, blankets, blocks and bolsters to help students access poses correctly, even if they could not get into a classical position. If someone could not reach the floor while holding correct body alignment, Iyengar would use a block to "bring the floor up" to that person.
The benefits of Iyengar's practice was studied and published in numerous medical journals. Correctly done, the poses reduced the effects of depression, hypertension, rheumatoid arthritis, irritable bowel syndrome and other disorders.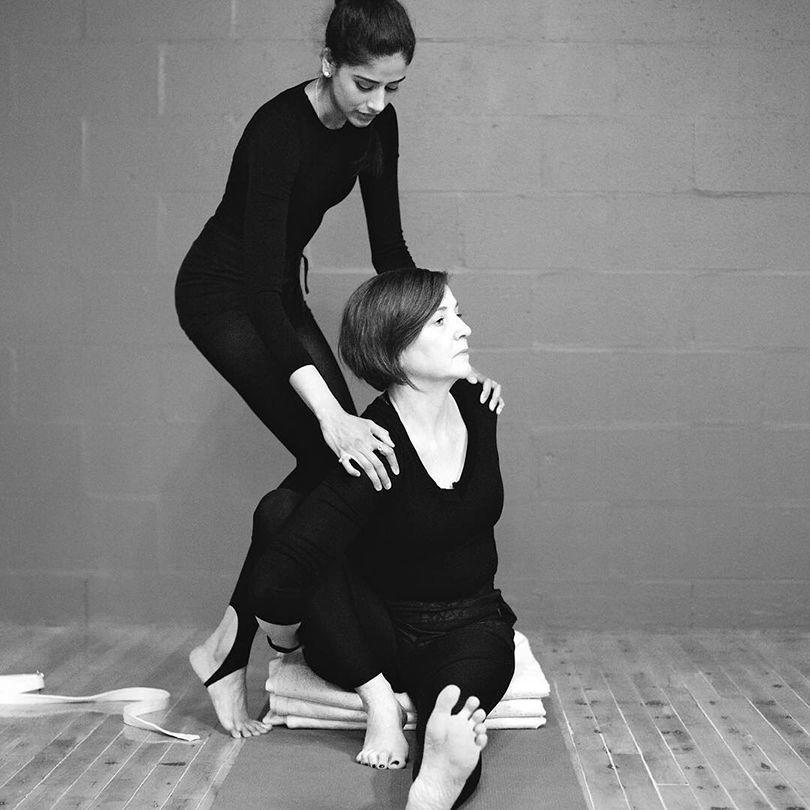 "These published articles and studies are proof of the reason we do things in Iyengar yoga so deliberately," Bhagat says. "You start with a foundation of basic poses then eventually progress to more advanced poses. But there is a deeper understanding in the way you are positioning and aligning your body instead of trying to contort yourself into the shape of the pose."
Iyengar yoga teaches you awareness. That mindfulness and inquisitiveness spreads to everyday life, ultimately helping you make better decisions. But getting to the point where you can teach Iyengar takes years of dedicated study, research and practice.
Personal deliberation
When Bhagat was pursuing her master's degree in international affairs, her mother introduced her to yoga to better help her manage stress. Bhagat found that she liked it, and after graduating started working in a yoga boutique where she received free classes.
While working in the boutique, Bhagat actively searched for work in her field, but one of her aunts suggested taking a yoga teacher training class. With a scholarship from the yoga boutique where she worked, Bhagat attended a month-long, 200-hour Yoga Alliance® teacher training class in Seattle. The training happened to be taught by a senior certified Iyengar yoga instructor.
Iyengar appealed to Bhagat, and after her time in Seattle she knew she wanted the rigorous Iyengar certification. She has since gone on to study at the National Iyengar Studio in the United States and goes to India every year to deepen her practice.
Fortune of circumstances
Sadhanaa Yoga is the name of Bhagat's studio in Rochester, New York. Originally established in 2000, it was called the Iyengar Yoga School of Rochester. In 2009, it was handed to another Iyengar teacher, who four years later passed it along to Bhagat. In Sanskrit, Sadhanaa means "devoted practice."
B.K.S. Iyengar is famously quoted for saying, "Freedom comes from discipline." That is exactly what Bhagat has found. She had always thought she would one day leave Rochester, but her devotion to yoga and life's path has clearly and deliberately aligned in a way that has her settled in her home city doing her life's calling — just like the healthful, mindful practice she brings to her students every day.
This article was originally published in Community Health for Rochester Area School Health Plan.