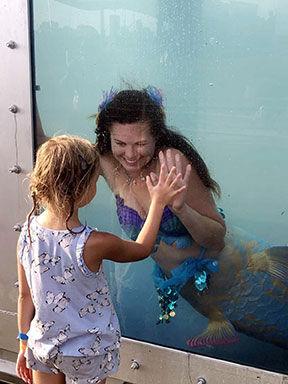 OSCODA – Prior to competing in Miss Mermaid Michigan, as well as during the contest and now after her involvement in the related events, Oscoda resident Elyssa Steward has maintained her fight for clean water.
Steward – who earned the title of Miss Mermaid Michigan 2021 earlier this year – advanced to the next round of the contest, Miss Mermaid USA, which was held in August during MerMagic Con in Manassas, Va.
She used her platform to raise awareness of the state's water crisis, including the per- and polyfluoroalkyl substances (PFAS) contamination in her own community.
Steward placed in the top 10 out of the original 52 competitors, counting Puerto Rico and Washington, D.C.
"The top 25 competed in the water portion of the contest. Based on the points off of that portion of the competition, they chose the top 10," she explained.
These names were announced during the event's gala on Aug. 7. The following day, Steward and other members of the top 10 took part in the pageant portion of the contest, where they were graded on stage presence, community activism and interviews.
Miss Mermaid Maryland, Felicia Flaherty, ultimately claimed the title of Miss Mermaid USA. The runner-up and winner of the Miss Mermaid America crown was Miss Mermaid Florida, Nicole Wood. While a date and location has yet to be announced, the two will now be heading to Miss Mermaid International.
As for her involvement during the USA round of the contest, Steward spoke about some of the activities she took part in. For example, on one of the event days, participants were graded on their underwater modeling. "This was whatever you could do based on one breath hold," she described.
"The second portion was how many laps we could swim with a mono fin on, with a max of 50 yards," she continued. "They provided our mono fins so the playing field was equal. I was able to complete my 50 yards for a max of 100 points."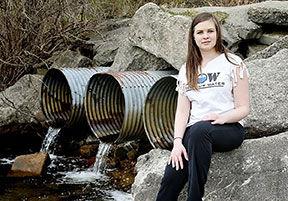 Among her many titles, Steward is a member of the Oscoda community action group, Need Our Water (NOW), which has long been advocating for swifter cleanup of the PFAS contamination in Oscoda, as well as several other water/environmental related goals.
Steward vowed to donate any prize money she received during the mermaid events to NOW and, although she didn't win, she shared that she has been able to collect donations along the way to help support her mission.
"When attending MerMagic Con, [NOW Co-Lead] Mrs. Cathy Wusterbarth and I were able to speak on the conservation panel about what is happening here in Oscoda," she stated.
"In addition, we worked our own NOW booth which was located right next to the main stage. Overall, I was able to speak about the PFAS contamination and educate over 1,000 people," Steward noted.
"Although Oscoda is ground zero for the movement, there have been sites popping up all over the United States with similar contaminated areas," she pointed out. "We encouraged everyone to scan the QR code we provided in order to find out where the contaminations are near them."
Furthermore, through her advancement in the competition, Steward was asked to work with Aqua Performance Group. The pod, which is headquartered in  Michigan, has traveling mermaid tanks and hosts the MerFest International festival in South Haven.
Steward says she had the pleasure of working at this event, while in the tank, during the weekend of Aug. 21-22.
According to those from the organization, MerFest International is a global festival of mermaids and mermen dedicated to the preservation of our aquatic ecosystem through public awareness.
As Miss Mermaid Michigan, they said that Steward's platform promotes the PFAS movement in Oscoda, where the contamination is seeping into Lake Huron and other water sources.
It has been Steward's mission to raise awareness and help get PFAS cleaned out of the water systems, the information goes on. As a Great Lakes mermaid, it is her passion to raise awareness of the water crisis in Michigan. Not only is the state still dealing with these issues in Flint, but they are also working to remediate the PFAS contamination in Oscoda.
The largest deposit of freshwater is found surrounding Michigan, and it is Steward's intention that it stays this way.
"The water crisis in Michigan is real and needs to be addressed with faster remediation," she also stated in a post which was shared to the NOW Facebook page, shortly after being named as a top 10 finalist of Miss Mermaid USA.
As previously reported, MerMagic Con is known as the world's largest mermaid convention, and features the live pageant event for Miss Mermaid USA. The competitions are a unique series of beauty pageants, bringing mermaiding, modeling and ocean activism together on a worldwide scale.
More than 50 state title-holders vie to be Miss Mermaid USA and represent the country at the international level. Mermaid Queens from around the world compete in skills such as underwater modeling, freediving and traditional pageantry, while supporting causes to help save the oceans.
Along with serving NOW, Steward's environmental activism includes being a clean water ambassador for the state of Michigan, a board of directors member with Oscoda Citizens for Clean Water, an Ocean Artists Society member, a Discover4ocean sponsor and a Sand Cloud ambassador.
As outlined by Miss Mermaid USA representatives, Steward has extensive water experience with scuba diving, underwater photography, freediving and synchronized swimming. She is also a NAUI divemaster and rescue diver, and a Level 1 FII free diver.
In addition to being a triathlete, Steward was a collegiate swimmer for Texas State University, as well.
Further, she is the owner/operator of Swim Lessons of Oscoda, coach of the Oscoda Varsity Swim team, head coach of Otters Swim Club and is involved in the Blue Marlins synchronized swim club.
The mermaid organization adds that Steward models in her spare time, performs as a mermaid for children's birthday parties, enjoys teaching water education courses at local schools and has a static in water breath hold personal record of two minutes, 40 seconds.
A former resident of Texas, who graduated from high school while living in Round Rock, 2021 marked Steward's first attempt at the mermaid pageant.
"This is the third year this pageant has existed," she said, adding that she would have applied last year but, due to COVID-19, organizers had just renewed the former queens.
As to why she decided to try out, "I think water education is everything and what better way to spread the word," Steward said, around the time she applied.
Wusterbarth describes Steward as a dynamic and intelligent young woman who they are blessed to have in the community. "She has assisted Oscoda with engaging Oscoda High School students with our PFAS actions including speaking at the MCL hearing in 2020."