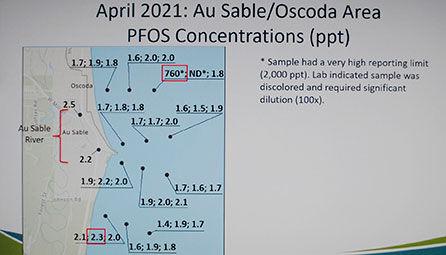 OSCODA – A recent meeting on the investigation of per- and polyfluoroalkyl substances (PFAS) contamination in the local area obviously included talks on the former Wurtsmith Air Force Base (WAFB) in Oscoda. Although this time around, additional attention was also given to such sites as the AuSable River and Lake Huron.
The Michigan PFAS Action Response Team (MPART) hosted the virtual community meeting on July 20, for which updates were provided by the Michigan departments of Environment, Great Lakes and Energy (EGLE), Health and Human Services (MDHHS) and Natural Resources (DNR).
Sharing the latest on the AuSable River plume study which began a couple years ago, was Brandon Armstrong, an aquatic biology specialist with EGLE's Water Resources Division. He explained that the objective of the study was to determine the extent of measurable PFAS potentially coming out of the river, traveling into Lake Huron and then moving south toward the drinking water (DW) intake in East Tawas.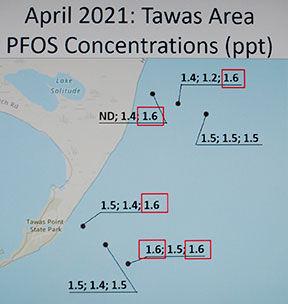 The intake structure is located in the lake, near Tawas Point, and is utilized by the Huron Shore Regional Utility Authority (HSRUA) – which processes the water and provides the treated product to those in East Tawas, Tawas City and the townships of Oscoda, AuSable and Baldwin.
Armstrong said that surface water (SW) was collected from two sites within the AuSable River, and that there were six transects out on Lake Huron – two north and two south of the AuSable River mouth, and one north and one south of HSRUA's DW intake in East Tawas.
Each transect began approximately 300 meters offshore and extended about 1.2 kilometers perpendicular to the shoreline. Along each transect were three sampling locations. Three SW samples were collected from each location, with the first being one meter below the surface, the second at mid-depth and the third one meter from the lake bottom.
To account for any variability in concentrations due to weather related conditions, Armstrong said that this sampling was repeated over the course of four events – July 2019, September 2019, November 2019 and April 2021. "We really wanted to assess if there are any seasonal differences of PFAS coming out of the AuSable River, out into Lake Huron."
There were also plans to collect samples in April 2020, to pick up any potential spring runoff which may occur. But this was just after COVID-19 hit, so it was postponed until April 2021.
While Armstrong's presentation highlighted PFOS, which is one type of PFAS, he pointed out that the samples were analyzed for 28 total PFAS analytes.
The highest PFOS concentrations observed in the AuSable River, in July 2019, were between 6-7 parts per trillion (ppt). The highest in Lake Huron, which was from a subsurface sample collected just south of the river, was 3.6 ppt. Near the DW intake in East Tawas at this time, the greatest concentration was 1.4 ppt.
"We revisited this area in September 2019 and we saw slightly lower concentrations," Armstrong continued. The highest PFOS numbers were between 2-3 ppt in the river; 1.8 ppt in Lake Huron, near the river; and 2 ppt or less near Tawas Point.
The levels recorded in November 2019 were similar to those in September, with the highest PFOS concentrations being 2-3 ppt coming out of the river, 2.5 ppt on Lake Huron near the river and 1.5 ppt on the lake in East Tawas.
As for the latest results from this April, PFOS concentrations in the river were comparable to the prior two sampling events, and were between 2-3 ppt. However, in the lake near this area, there was a concentration of 760 ppt, which Armstrong said is high for PFOS.
But, "The lab had a very high reporting limit for PFOS, at 2,000 ppt. So the measurable concentration in the sample was less than the laboratory reporting limits," he said, adding that for a typical SW concentration, the reporting limit in a sample is about 2 ppt.
"So this is 1,000 times that, which gave us pause to really question what was going on in this particular sample – given the high concentration, both in measurable concentration of PFOS and that higher reporting limit," he went on. "So we did reach out to the lab to figure out why there was such a high reporting limit associated with the sample. And the lab indicated that the sample was discolored and cloudy at the time of analysis. And there is something in the matrix that was interfering with their analysis, such that they had to dilute that sample 100 times, in order to get a measurable value for this particular sample."
Outside of that sample, Armstrong said the highest PFOS concentration observed in this area was 2.3 ppt in Lake Huron.
"With 760 ppt out on Lake Huron, it was a very surprising result," he noted. To put this into context, he referenced Clark's Marsh in Oscoda which, as reported, is known to have high levels of PFAS – along with Do Not Eat (DNE) advisories for fish and wildlife from the site.
According to Armstrong, the highest PFOS concentration seen in the marsh, from samples collected in 2020, was 660 ppt. "So that sample that was collected over a mile offshore exceeded the concentrations that we were seeing right in the marsh itself."
Aside from PFOS, Armstrong said that in the Lake Huron samples, the only other detected PFAS was PFBS. This had a concentration of 420 ppt but, again, it also had another similar high reporting limit of 2,000 ppt.
As for the 760 ppt sample from Lake Huron, this was collected about 1.15 miles northeast of the AuSable River mouth. "These samples are collected by our contractor, Great Lakes Environmental Center [GLEC]. And at the time of sample collection, they also assessed in situ data at every sampling location," Armstrong said. This means that they looked at turbidity, conductivity, pH and temperature at all these locations.
He said this particular sampling location had very similar turbidity and conductivity as all the other Lake Huron samples which were collected that day. EGLE also confirmed with the field staff that all samples were clear and free of any visible debris at the time of collection. "And it was GLEC's interpretation of the data that the lake was well homogenized. So, it was very well mixed from top to bottom. They didn't see anything at this particular site that may have caused that cloudy, discolored sample that was received by the lab."
With the high reporting limit, the sample from a mile offshore exceeding concentrations in Clark's Marsh and the contrasting sample clarity between what was observed at the lab and what was collected by the field crew, Armstrong said it's clear to EGLE that something happened to the sample in question. It was either contaminated after collection or mixed up with another non-SW sample.
This April, the highest PFOS concentration by the DW intake in East Tawas was 1.6 ppt.
Overall during these sampling events, Armstrong said the SW concentrations on Lake Huron have generally been low for PFOS, typically between 1-3 ppt, which meets the state's water quality standards (WQS).
He reiterated that 28 PFAS analytes were examined and, for PFOA, this was also generally below reporting limits – or less than 2 ppt. The highest concentration on Lake Huron was just under 4 ppt, in a 2019 sample from north of the river. Other PFAS were typically below reporting limits, as well, or less than 5 ppt, with the exception of the PFBS concentration which was seen in the one sample with data quality concerns.
In total, 162 SW samples were collected from Lake Huron, of which 161 met the WQS.
"Taking all this into consideration, we are concluding that there is not a significant PFAS plume coming out of the AuSable River, resulting in elevated Lake Huron PFAS concentrations that exceed our [WQS]," – and which would be traveling south toward the DW intake, Armstrong said.
Among his other updates, he advised that in Michigan there are SW WQS for two PFAS – PFOS and PFOA. This year, EGLE is reviewing and updating the human health values associated with PFOA, that were first derived in 2011. They are also deriving new values for PFBS, for both human health and aquatic life values.
Armstrong said that EGLE took a look at all the PFAS which have maximum contaminant levels (MCLs) for DW, as well. For SW WQS, they have to know how toxic these compounds are. They also have to have a good indication of how bioaccumulative they are – in other words, how likely these compounds are going to build up in fish, and then potentially cause adverse effects in people who consume fish from these water bodies.
"We don't have a good indication of how bioaccumulative two of these PFAS are – PFHxS and PFNA," he said. "So this year, we are conducting a bioaccumulation study, to help potentially collect enough data to derive future [WQS] for these two compounds."
Also speaking that night was Ian Smith, the emerging contaminants unit manager within EGLE's drinking water and environmental health division. Among his duties has been overseeing the statewide PFAS survey sampling during the past several years, and he shared a time line of what this unit has done, with respect to the local municipal supply – HSRUA.
Smith said that HSRUA was a part of EGLE's initial statewide PFAS survey in 2018. "And because this supply is one of the approximately 70 in our state which utilize a [SW] source, we actually did some additional testing, compared to those [GW] supplies across the state."
In the initial round, they tested the treated DW and utilized two different analytical methods. They also tested the intake water, which is that coming off of Lake Huron and into the supply for treatment.
According to Smith, that initial sample came back as non-detect (ND) for all compounds, in both raw and finished water.
"In light of some historic detections of PFAS in and around that intake, we opted to go ahead – beginning in April of 2019 – and begin testing the intake and the finished water on a monthly basis. And we did that between April and September of 2019," he said.
Unfortunately, with COVID-19 hitting in early 2020, he explained that they did not have the resources to continue the sampling at that time. But something noteworthy that did happen in 2020, was Michigan successfully promulgating its seven PFAS MCLs. "And beginning in August, all supplies across the state who are regulated under the Safe Drinking Water Act, including Huron Shores, went onto regular compliance monitoring schedules."
Smith said he believes that it was in December when HSRUA collected their initial sample and, again, those results were ND.
Since monitoring under the Safe Drinking Water Act doesn't include testing of raw water – it includes only testing of finished water at the point of entry to a public water supply distribution system – EGLE opted to again begin sampling the raw intake water for PFAS, starting this January.
The department received resources to do six months of sampling. Smith said they chose to spread that out over the entire year, with the reason being that they wanted to do a more effective job of assessing any seasonality in any detections which occur.
According to Smith, they just completed the fourth round of that sampling in July, and are now awaiting the results.
He pointed out that all of the HSRUA samples collected since November 2018 have been ND for all PFAS analytes, in each case.
When MDHHS Toxicologist Puneet Vij spoke, he recapped several items which have been shared previously. This included a reminder to avoid foam on water bodies with high levels of PFAS, a note that the community will be kept apprised as progress is made on the Oscoda area PFAS exposure assessment which is in the works and a list of some of the adverse health effects which can occur in humans exposed to PFAS.
He also gave a reminder of the MDHHS recommendation that the DNE advisory for deer harvested from Clark's Marsh be changed from within five miles of the marsh, to within three miles. This is based on such factors as the subsequent sampling since the initial DNE advisory was put out in 2018.
Vij added that MDHHS continues to recommend not eating the kidneys or liver from any deer, statewide, because many chemicals – including PFAS – can accumulate in these organs.
An audience member said it had been mentioned in the past that there was a possibility for deer to wander more than five miles from the marsh. So, with the three-mile advisory, he asked if it is more probable for contaminated deer to be hunted beyond the advisory area and eaten unknowingly by hunter's families.
The inquiry was addressed by DNR Senior Water Policy Advisor Tammy Newcomb. "When we initially created the five miles, that actually had a one-mile buffer around it," she said. The deer biologists looked at the habitat available in that area and gave a best estimate for what home range would look like for those deer. The data that was analyzed, further showed a very close association to Clark's Marsh and that once beyond the two-mile limit, they do not see the findings of PFAS in the muscle and liver. "And so there was an additional mile added onto that, just as a matter of assurances of the deer in that area."
Newcomb said there was a lot of consultation with the DNR deer biologists about what would make sense for this area and the timing of exposure and the likelihood of those deer being some place else than close to Clark's Marsh.
She noted that winter time is when they're going to be concentrated in there, and that's when they would most likely have the higher elevated levels. So, given the information of the data and the deer behavior, with the habitat and the time of year, the biologists said that the three miles made sense. "And that was in consultation with DHHS."
According to Vij, the highest concentration of PFOS detected during the 2018 deer survey, was 547 parts per billion (ppb) in the muscle, and about 6,000 ppb in the liver. With the latest samples, these numbers were 82 ppb and 2,970 ppb, respectively.
As for fish sampling updates, he said that lab results are still pending for the yellow perch, bluegill and black crappie collected from Van Etten Lake (VEL) in 2020, as well as the yellow perch taken from Cedar Lake in 2020.
"Also, based on 2019 sampling in Cedar Lake, the existing advisory of eight meals per month of bluegill or sunfish of any size, due to mercury, will be relaxed to 16 meals per month," Vij advised. "And in this case, PFAS was a non-detect."
When a meeting goer questioned why the results were still pending from samples taken in 2020, Armstrong said that the fish were collected from VEL through the ice, in February. "So right after we collected them we brought them back to our facility, put them in a freezer, and then COVID hit." Therefore, they were faced with restrictions on getting the samples to the lab for analysis. "It was just additional delays we had to deal with last year, the reason why those results are still pending."
The webinar was recorded and MPART representatives said that a link would be posted to Michigan.gov/Wurtsmith, within a few days after the event. The MPART webpage contains multiple documents on WAFB and other Oscoda/AuSable investigations, as well, and can be accessed at Michigan.gov/PFASResponse.