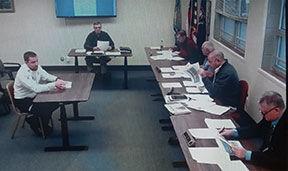 TAWAS CITY – Commissioners set in motion paperwork which would lead to the county stopping services from Mobile Medical Response (MMR) in managing the Iosco County EMS.
During the Iosco County Board of Commissioner's Nov. 17 committee of the whole meeting, commissioners voted unanimously to send the company a letter stating that the county has elected to stop a contract with the company.
The intention is for the county to run its own management of Iosco EMS, at a savings, according to Financial Controller Jamie Soboleski. Ending the partnership with MMR, according to the contract documents, would take place 120 days after they were informed by the county that services were no longer desired.
Soboleski, as well as an EMS committee formed to come up with solutions to a severely understaffed county ambulance service, made the recommendation to the committee of the whole.
Over several months the staff of EMS has dwindled due to unhappy employees, who have cited management by MMR as one of the reasons for leaving, according to Soboleski. She said as a result of the county being severely understaffed, there have been a deluge of longer ambulance response and transfer times.
 She said that for full staffing EMS should have 12 paramedics and 12 EMTs, but currently there are only six paramedics and 10 EMTs, and a few new part-time EMTs, which is not enough to fully staff the service.
A committee was formed, made up of Soboleski, Chairman Jay O'Farrell, Clerk Nancy Huebel, Commissioner Robert Huebel and Iosco County 911 Director Mike Eller to explore the issues and to talk them over with MMR.
The upshot, Soboleski told commissioners, is that there are several options that could take place, after discussions with MMR. The solutions ranged from the county doing nothing, and staying with MMR, taking operations in house and not having a management company, or even going out for bids on a new management company to take over for MMR.
"We presented some issues to MMR and some demands that if we were going to continue with them, the issues would have to be fixed," Soboleski said, adding that one of the things the committee wanted from MMR was to have a full-time operations manager come to Iosco County and give sole focus to this area. Currently Operations Manager Scott Kiernicki splits his time between Iosco and Arenac counties.
She said MMR responded with two more proposals, including cutting ties with MMR altogether, or taking over all the operations of Iosco County EMS, including employees, leaving only Iosco County with ownership of the EMS stations.
"Our committee carefully weighed all those options, and it was the recommendation that we move forward with performing these services in house rather than contracting with MMR," Soboleski said. "There is a 120-day contract termination clause that we have to adhere to, we are not making this recommendation without some homework, we have a flowchart of how this process would work."
Soboleski told commissioners that a director of emergency services would have to be hired. This person would oversee not only EMS, but also 911 and emergency management. For the EMS department, an operations manager would be hired, along with an administrative assistant to work on billing, payroll and other duties that MMR currently does under contract.
"Going forward we'd like to increase the EMS millage so we can get a new position, a captain, but right now we don't have the funding," Soboleski said. "That person would help with personnel issues, scheduling and education."
She said if those positions were hired, minus the captain's position, they would have to pay the EMS operations manager a salary of $65,000, and an assistant's salary of $50,000. Combined with the director of emergency services job (which would get an increase of $8,000), they would be paying a payroll of $182,000, and saving around $66,000 from working with MMR.
Soboleski said the county could also be able to keep more of the ambulance service collections for its own coffers. She said right now when MMR conducts a collection on a delinquent ambulance service bill, they keep 9 percent of that fee.
She added that an increased cost to the county would be that of information technology needed to run an ambulance service. She said MMR charges the county $17,000 annually for that service. If the county started it's own management service, the upfront cost would be $19,000 for information technology, but it would decrease after the first year down to $14,000.
Commissioner Charles Finley asked why a director of emergency services would be needed at all. Soboleski said the committee thought that if they went their route, it would only cost about $8,000 more a year than they pay now. Further, she alluded that there was someone lined up for the position potentially, but she did not want to discuss that at this juncture.
Commissioner Robert Huebel said he thought that hiring a director of emergency services would be a good idea, because the individual would have their thumb on the pulse of what is going on in the various departments, and manage the entire affair better than it is currently being managed.
Soboleski said she did not want to see management snafus occurring anymore with the department, because a good service to the community was very important.
"We don't want these things to fall between the cracks again," she said. "Looking at the operations manager, this person would be doing day to day operations, and this (director) person would be in support of that."
After discussion, Dutcher cast a motion to send a letter to MMR to inform the company that it would be severing ties with it after the 120-day contract clause. He was seconded and the vote was unanimous.
This was not the only action done by commissioners to help bolster EMS. They also voted unanimously to eliminate a probationary period for new employees, where they worked on a smaller hourly wage for six months before getting a regular pay increase.
Soboleski told commissioners that the EMS union already agreed to the change in deleting the probationary clause from the contract. She said for six months when hired, EMTs would make $11.75 an hour and paramedics would make $12.50 an hour.
"They will still be probationary employees, but they will just start at the next step up," she said. She added that all other employees currently employed would also move up a step with the contract change. Commissioners unanimously approved the measure for the full board.
O'Farrell said county officials have been talking to many different people in the county about the issue. She said the move to not work with MMR was the thing to do.
"This is in the best interest of everyone in the county who needs the ambulance service," O'Farrell said.