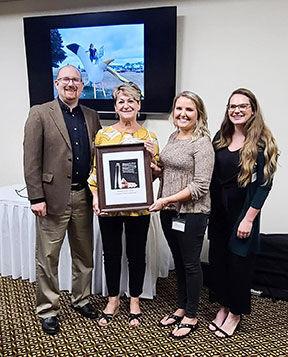 EAST TAWAS – During an evening complete with a dinner, marketing tips for guests and an awards presentation, the Tawas Area Chamber of Commerce (TACC) also held its annual meeting on Oct. 14, in conjunction with the celebration.
Representatives state that the 2021 event, hosted at the Tawas Bay Beach Resort in East Tawas, was a hit thanks to the delicious food, a wonderful keynote speaker and, of course, the amazing TACC members.
These individuals are asked each year to nominate their fellow chamber member businesses for two different awards – Strength in Community and Prosperity in Business.
The 2021 Strength in Community Award nominees are summarized below, according to information provided by TACC.
• Consumers Energy: For Continued support of various community events.
• Iosco County Coats for Kids: Coats for Kids started in 1995 and they have given an average of 1,300 coats per year to needy children in the local area. They have expanded to include shoes, boots, gloves and scarves, and also have coats in adult sizes. They work hard to ensure no child in Iosco County goes without a warm coat.
• Alpena Alcona Area Credit Union (AAACU): Those from the Tawas City branch of AAACU volunteer and donate to many local businesses and charity organizations. They believe strongly in their philosophy of "people helping people," as demonstrated by dedicating a special fundraising committee each quarter.
• New Hope Church: This church has been doing lunch giveaways for school age children since the pandemic began. They also have monthly food drives, a children's backpack giveaway, send 100 children to camp every summer, support many community events and ship Christmas boxes overseas through Operation Christmas Child.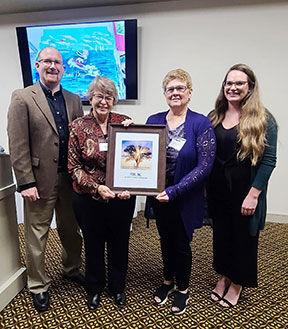 • FISH, Inc.: While this organization offers support in many ways, one of its biggest projects is the FISH crisis hotline, which takes requests from people in need or refers them to different agencies which can help. Another  main project of the FISH group is the annual Christmas Gifthouse, which provides families with books and gifts for their children for the holiday season.
• Quota International of Iosco County: Participants have provided extensive help to the community by purchasing classroom amplification systems, acquiring the first hearing screening booth at Ascension St. Joseph Hospital, running the Reach out and Read Program, organizing the Quota Cares stuffed animals program and much more.
The 2021 Prosperity in Business Award nominees are described as follows:
• Tawaste: This member has adapted its business model over the last 18 months to work within the changing guidelines of the pandemic. TACC notes that Tawaste has made a positive impact on the community by allowing people to have a place to connect with themselves, a safe place for children and opportunities to connect with people who are active in the community.
• Mooney's Ben Franklin: TACC says that those from the East Tawas establishment are greatly involved in the community. They are very active in helping and donating to many events and organizations throughout the area. The business/store has also been a destination for many people from out of the area.
• Northeast Michigan Regional Farmers Market (NMRFM): While many businesses were closed in 2020, the NMRFM was deemed an essential business and took careful measures to ensure the community and vendors had safe and continued access to the fresh and affordable produce choices the community needed.
The winner of the 2021 Strength in Community Award was FISH, Inc., while Mooney's Ben Franklin earned this year's Prosperity in Business Award. Framed plaques were presented by TACC leaders, to representatives of each of these entities.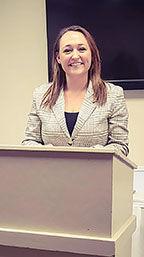 According to TACC, another highlight of the evening was hearing from the keynote speaker at this year's event, Kimberly Salwey. The global digital talent marketing specialist at Dow, she works within human resources to discover innovative ways to digitally market to, and recruit, top talent around the globe.
Salwey graduated from Tawas Area High School in 2012, after which she went on to obtain a Bachelor of Business Administration degree in marketing from Saginaw Valley State University.
During the annual meeting, she talked about the importance of social media in the everyday business world, and she presented tips to help attendees make the most of their marketing skills.
Following this, TACC shared that they are considering having Salwey come back to teach a hands-on class, specifically regarding how to set up one's Facebook business page, determine what settings are best for their business and how to find the stats which are needed to make their marketing successful.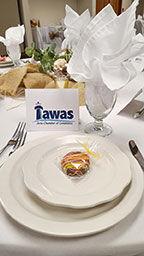 TACC is currently gauging the  interest of chamber members in this potential offering and, if they decide to pursue it, the idea would be to hold the class some time after the holidays.
"We appreciate everyone who was able to attend," reads a statement from TACC about the annual meeting/awards ceremony. "While we are pleased with all that has been accomplished this year, we also recognize that there is still so much more to do. We pledge to continue our commitment of Prosperity in Business and Strength in Community as we enter 2022."
Chamber representatives also expressed their gratitude to Blue Cross Blue Shield of Michigan, which sponsored this year's event. "Their generosity and support of the Chamber of Commerce and this annual event has been amazing," the TACC statement continues.
They went on to recognize some of their own members, as well, including those who gratuitously sponsored the dessert table. "Thank you for making our evening a little sweeter!" These contributors were Bolen Asphalt Paving, Real Estate One Northeast and Tri-County Agency, with the Village Chocolatier also providing the place setting treats for guests.