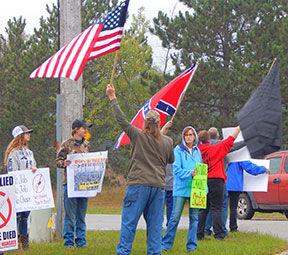 OSCODA – Protesters lined the road surrounding the entrance to Kalitta Air, Thursday, holding signs and voicing their discontent with the new vaccine mandate their employers are complying with.
"We the people, stop the mandate," read a flyer circulated around the city. "Let's all stand together, united, and show them it's unconstitutional to mandate a vaccine or be fired."
Not only did workers show up, but so did some supporters employed elsewhere.
President Joe Biden's Executive Order 14042 mandates that all companies employing over 100 people with federal contracts must have their employees vaccinated from COVID-19.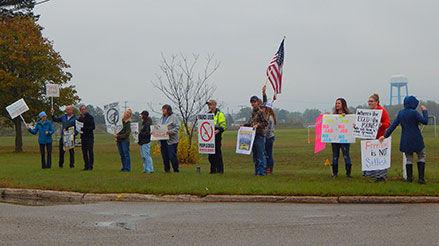 For some employees, their skepticism of the vaccine has put them in the awkward position: either get the dose or find work elsewhere. Katie Koutula, who used to work as a meteorologist at Kalitta, says people are afraid of showing up to these protests.
"A lot of people want to be here but are afraid," she said. "Rumor has it that they were put on immediate unpaid leave if they do."
As she stood by the side of the road for an interview, a Kalitta security truck drove by with a camera recording the protest as it took place.
Koutula clarified that this protest is not against Kalitta, but against the governmental vaccine mandate.
Before the protest, company owner Conrad Kalitta issued a letter to employees explaining the rationale behind the mandate, and said he was issuing a $1,000 bonus to employees who got the vaccine, as well as an additional $1,000 to those employees who have already complied with the vaccine mandate.
Kalitta and company officials have been strident in the claim that they've fought tooth and nail in not imposing the mandate against the employees. They've also reiterated that the mandate needed to be followed to keep in business as a government contractor.
When asked about the letter issued from Conrad Kalitta, Koutula said she disagreed with how much of an effort the company made to hold off on the mandate.
"We didn't hear any of that from them. We just were told the Monday before this past Monday that this had to happen and that we had two weeks to start the shots," she claimed.
Koutula also described an incident where she was called into her boss's office where there was a conference call. They questioned her about the protest fliers distributed around town and asked her what her issues with the company were.
"I said, my problem is the mandate," she said.
Kalitta Air Chief Operating Officer Pete Sanderlin was reached for comment and said he was told that there were only a few employees involved.
"Attending the protest is not grounds for discipline or termination."
Some protesters claimed an annual Christmas bonus will be replaced with the vaccine bonus, but Sanderlin said they are not related to one another.
The security guards were, to his knowledge, not given direction to do so and were acting on their own.
"I have been told that there were only a few employees involved.  Attending the protest is not grounds for discipline or termination," he said in an email. "There have been no disciplinary action taken and none planned. Everyone has a right to voice their opinion."
Rick Gall, non destructive testing worker at Kalitta, plans on filing for a religious exemption to taking the vaccine.
He says his objections are "primarily due to the development of the vaccine using fetal tissue from a poor child that was aborted many years ago."
Gall is referencing the fact that the development of all three major vaccines involved the use of cell lines derived from fetal tissue.
Cell lines differ from fetal tissue in the sense that the cells originally were extracted and cultivated from an aborted fetus, but aren't necessarily from the fetus itself.
According to Dec. 2020 article published in the National Review, the Moderna and Pfizer vaccines utilized kidney cells from the HEK 239 line. These cells were originally taken from a fetus in 1973. For the development of these vaccines, no new fetal cells were generated from abortions.
Still, Gall says that is too far for him, and the fact that there are fetal cells used at all in the process are enough to refuse taking a dose.
Gall identifies as a Christian and believes that anything derived from human embryonic cells, no matter how far removed, is unethical and should not be used.
"Killing babies is bad. I'm against killing babies," he said.
Johnson and Johnson differs in the fact that their vaccine used fetal cells directly from aborted fetuses.
According to company officials, those granted religious or medical exemptions will not be terminated, but be laid off indefinitely without pay.