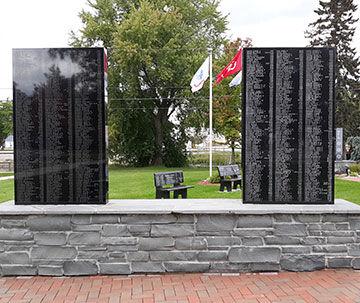 TAWAS CITY – The sun shone on Tawas' Veterans Park recently as the fourth granite wall with 596 names of Iosco County Veterans was added. Employees from John Henry Excavating took great care as they gently guided the wall to its new home in the park. 
The four walls were purchased several years ago, with the first three walls with 1,800 names being installed on May 26, 2018. Adding the names to the fourth wall has been over two years in the making. The committee had originally planned installation of the fourth wall for Veterans Day 2019, however, they were 150 names short at the time. They then hoped to have the wall in place by Memorial Day 2020.
While there were installation ceremonies in previous years, this year's installation was a quiet event due to COVID. 
"The park is not complete," said Sandra Whitford, Iosco County Veterans Recognition Plaza committee member, whose husband Bill is a veteran. She added that future plans include adding a fifth smaller panel between the four larger ones.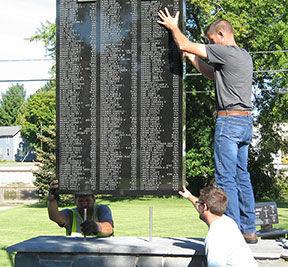 Whitford said there will be space for an additional 200 names on the new panel. Any Veteran from Iosco County who served in a military branch and was honorably discharged, can be added to the new wall at no cost. Individuals who would like to add the name of a veteran to the fifth wall can contact Whitford to do so. 

According to Whitford, an additional $9,000 needs to be raised for the fifth wall and donations are welcome. To date, 570 brick pavers have been sold at a cost of $100 each to support purchase of the four existing walls and replacement of the service flags. Pavers can be purchased to honor any U.S. Military Veteran who was honorably discharged by completing a form obtained from Tawas City Hall or available on the Park's website tawascity.org/places/veteranspark. Since 2014, Whitford and her husband have placed the bricks that make up the "Walk of Honor" throughout the park. Future plans also include adding landscape curbing around the bricks and permanent signage.
Veterans Park, established in 2009, is located in Tawas City at 608 West Lake Street, just north of the post office. According to the Park's website the "War Dead Memorial" was installed in 2012, and represents Veterans who lost their lives.  In 2018, the "Honor Roll of Iosco County Veterans Memorial" that honors men and women who entered the service from Iosco County was added.