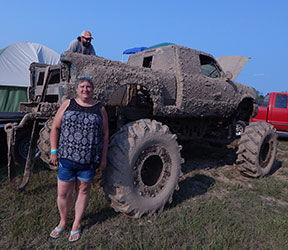 HALE – Sturgis may have its hogs, but Hale has its monsters.
The annual Michigan Mud Jam took place between Aug. 17-22 this year in the Iosco County Fairgrounds.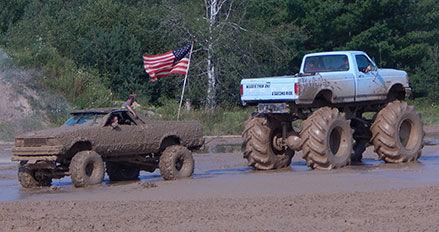 Of course, the main feature – mud, is never in short supply. Thousands of gallons of water gush out on a pristine mud pit with whatever absurd contraptions brave attendants tinkered on in the year leading up to this event.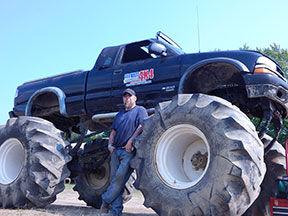 Some rigs look state-of-the-art, with shiny coats of paint and massive engines that completely rip through the muck. Other look like they were cobbled together by spare parts found in the junkyard.
It doesn't matter though, they all get covered in a thick coat of brown mud – the messier the better.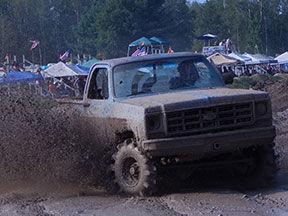 Even if you're a spectator, you better not be shy about getting a little mud on you. At the very least, everything standing still gets covered in a thin layer of dust, plus a few splashes of mud. That is just a rule of Mud Jam.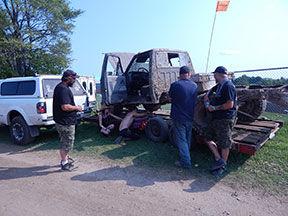 Even Archie Lester's "go-kart around," which he doesn't drive in the mud pit, was sporting a few dirt clods put there by his brother earlier in the day.
"I only paid a hundred dollars for it and I was like that's gonna go to Mud Jam."
On top of his lime-green sub-compact is a foam zombie. The vehicle is also adorned with a few bloody handprints and a severed prop arm. 
He says everybody likes the foam zombie. He puts it on his mud truck, dubbed the "ZOMBEAST," when he goes out into the pit for freestyle. Freestyle is another word for when the pit is open to all to join.
He says the hand is from a zombie that got in the way of him coming to Mud Jam.
"They tried stopping us, but they didn't make it," he said.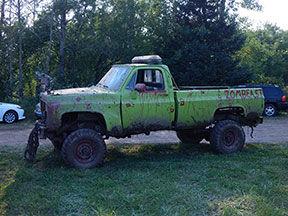 The ZOMBEAST is a 1979 Chevy. It is a three-and-a-quarter ton vehicle with a one-ton axle. He has been working on it for 5 years and is proud of the fact that this is the first year it entered the mud pit without having to be towed out.
"I'm just here to have fun and enjoy this place," he said. "Everyone's here to have fun. That's why we like it here."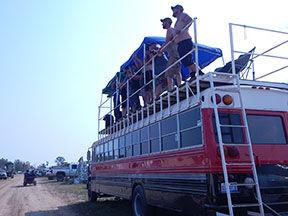 Besides mud, the other theme of the Mud Jam is big: Big engines, big exhaust, big rigs, big roars, both from the engines and from the crowd and big music blasting from giant car stereos. Everything booms and vibrates, and you can physically feel the energy tightly packed into every ounce of air.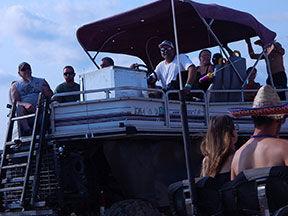 The whole place is one big open campground, tightly packed with weird cars and giant behemoths firing on odd-numbered cylinders and violating noise ordinances in most urban areas.
You feel like an ant as a pedestrian walking in between these corridors of monsters.
It goes without saying that nearly all of these rigs are custom built. They're projects that people spent a great amounts of hours, research and money into.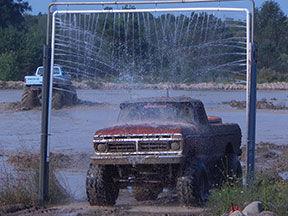 Scott Hill of Indianapolis, Ind. chose mud-bogging as his passion and made himself a big rig.
Hill brought an elevated Chevy dubbed the "Black Pearl." Each tire is 64-and-one-half inches in diameter. He says he's been working on it for three years.
"It's a labor of love," he says.
Hill also came to promote his business called "Elevate 4X4," which is promoted on the side of the Black Pearl.
"It's a great event, honestly it's a great community. The local businesses really participate and join in and it's always a welcome feeling."
Melissa McNicholl is wife to the Owner, Jesse McNicholl and she says, "It has the most amazing mud trucks in the country."
One of the biggest attractions during the six-day event took place on Friday. It's known as the "MMJ Smack Down Race." It's a competition that features two teams of nine racers, who race one-on-one in a mud course.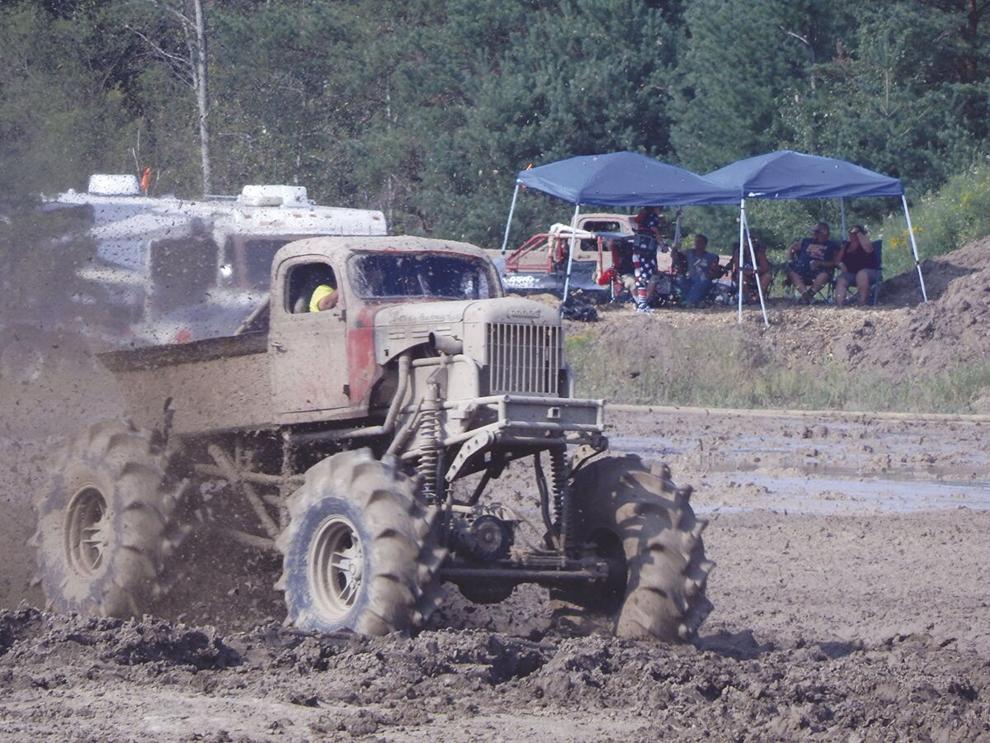 The main Mud Jam is not the only event MMJ hosts; in the beginning of July, they held an event called "Maximum Michigan Madness," reserved for ORV's and smaller vehicles. That event featured golf cart racing, fireworks and swap meets.
An "Outlaw Halloween Bog/Outlaw" racing series with trick-or-treating afterwards is coming up on Oct. 9 on the Iosco County Fairgrounds.