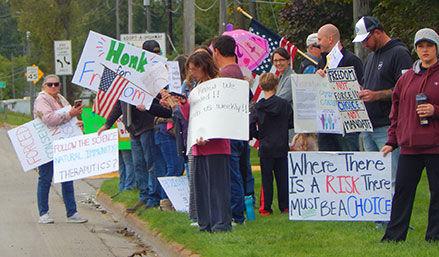 TAWAS CITY – "Honk if You Love Freedom."
That was a recurring phrase on a sign protesters held up in Front of the Ascension St Joseph hospital Sunday, Sept. 26, and they got many honks from passing cars.
A crowd of nurses, hospital staff, patients and supporters all attended the protest scheduled around 1 p.m.. They were protesting the COVID-19 vaccine mandate for all staff of Ascension St. Joseph.
As the current policy is, all staff needs to be vaccinated by Nov. 12 or else they will be asked to resign or fired from the hospital.
Naturally, with the controversy surrounding the vaccine, many nurses and staff are conflicted by their desire to keep their job and to exercise their medical right to refuse medication.
"Currently, forty percent of Tawas Hospital staff have held off on the Covid vaccine," said a flyer advertising the protest.
This number was confirmed with Deidre Barclay, an obstetrics (OB) nurse who resigned after she felt uncomfortable with the vaccine and the way the hospital answered her concerns on the issue.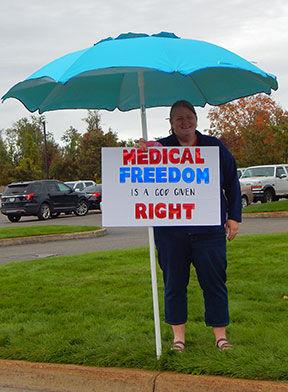 "I think it's important for everybody to understand that as nurses we have been trained to critically think," she said.
"We didn't say we would never get this vaccine, we said we wanted to wait and see."
Despite the three major COVID-19 vaccines approved under Emergency Use Authorization by the FDA last December, Barclay thinks that's not enough time for her and her family to have enough information on the vaccine before taking a dose.
"We were just asking for a grace period," she said.
For the FDA to approve a new drug on the market, it usually takes a considerable amount of time and testing before drugs are approved for use in human consumption.
On the fda.gov website, its frequently asked questions page lists drug approval taking around 10 months of a trial period before the drug can be approved.
However, that doesn't take into account clinical testing to account for the safety of a drug, which could add on years before a drug reaches approval.
According to an article published by the Journal of the American Medical Association, FDA drug review times declined from more than three years in 1983 to less than one year in 2017, but total time from the authorization of clinical testing to approval has remained at approximately eight years over that period.
Even though m-RNA vaccines like Moderna and Pfizer-BioNTech, have been in development since the 80s, they only have recently been fitted for addressing the COVID-19 virus, and that's where Barclay's concern lies.
"We don't know the side effects and we won't until the study is complete," she said. "This vaccine has only been available for a limited amount of time and we still have a lot to learn."
Another peaceful protest is scheduled for next Sunday, and Barclay says weekly protests will continue indefinitely until "our voices are heard."
The staff who refuse to take the vaccine may be in the minority, but they are still a significant number, she said.
Rebecca Kalbfleisch is another OB nurse who observed at least four staff in a team of 13 in the OB staff expressing a desire to leave.
"I don't think they realized how short staffed they are because they are getting rid of us," said Kalbfleisch. "They are bringing in people who are not familiar with small rural hospitals, and that is a huge learning curve."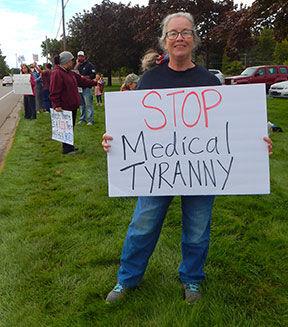 Bill Hunt of the hospital's operating room, (OR) reports 3 people leaving his team of 15.
He says he feels similar about the brevity of the vaccine's approval.
"Basically, they're doing a human trial" said Hunt.
Hunt is an Army veteran who served in the Air Force for 20 years as chief nurse on a forward surgical team. During the course of his work at Ascension, he contracted COVID-19, which he says provides immunity against re-contracting the disease.
"I won't get COVID. The vaccine would compromise my immunity against COVID."
The fact that they have already been exposed to COVID-19 and have built up immunity is a widely cited reason across most staff protesting. Even though there are antibodies that build up in a person's immune system, that's not good enough, according to the federal government.
An all-vaccinated staff mandate is not unique to Ascension St. Joseph. Across the country, many other hospitals adopted similar policies.
Some have done so voluntarily, but even if a hospital didn't find a mandate necessary, President Biden announced one for all healthcare workers, government employees and large businesses on Sept. 9.
To be compliant with federal law Ascension has to comply with and enforce these demands because they receive CMS (Medicare and Medicaid) funding and they are a company with over 100 workers.
When reached for comment, Ascension replied with an email stating:
"We respect the right of our associates to peacefully voice their opinions about the COVID-19 vaccine.
"We believe the latest rapid surge of COVID-19 infections and hospitalizations in our region, and across the country, clearly demonstrates the urgency for everyone eligible to get vaccinated to protect themselves, their loved ones, our patients and staff, and our communities. 
"We also know that serious illness and hospitalizations resulting from COVID-19 are largely preventable. We must do more to overcome this highly contagious virus as we provide safe environments for those we serve. Like numerous health systems across the country, Ascension is requiring associates to be vaccinated against COVID-19 by Nov. 12, 2021. This date aligns with the timing of the mandatory influenza vaccination program we've operated successfully for many years. 
"In those instances when someone may not be able to get vaccinated due to a medical condition or sincerely held religious belief, Ascension provides a process for requesting an exemption, just as we have done for the annual influenza vaccine for years.
"This decision is rooted in our Mission commitment to leading with quality and safety. As a healthcare provider and as a Catholic ministry, ensuring we have a culture of safety for our associates, patients and communities is foundational to our work."