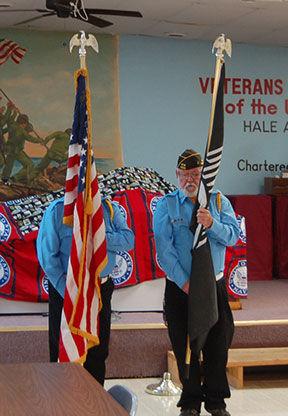 HALE  – To commemorate the United States of America's Veterans for their service, two public services were put on in Hale
Veterans at the Hale American Legion spoke on their past service, the importance of their work, and the importance of remembering them.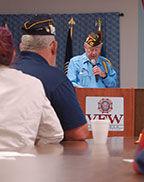 It was a day of remembrance as Commander Jeff Meyer stood up and spoke about the importance of veterans to America.
"Just because we took our uniform off, doesn't mean we left our duties behind."
Those duties are not forgotten by Quartermaster Gene Bedell, an Army vet who served in Vietnam.
He says he's proud to be a member of the honor guard, a duty that asks him to honor the lives of fallen veterans. He attends funerals, supports the families of the deceased and takes part in the 21 gun salute.
"This year has been somewhat of a crying year of a lot of veterans passing, because of COVID and of old age," he said.
In October alone, the American lost seven members. Bedell knew 3 of them personally.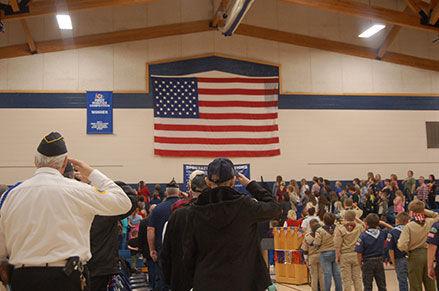 The VFW and American legion have separate roles in Hale, but have overlapping memberships, and in a small town everybody knows everybody else. It's not uncommon for Veterans to develop close bonds and depend on one another.
"What is that like? It's sad. It effects me because I know that our current veterans are not being recognized for their service."
Bedell expressed his desire for younger generations to recognize how valuable he views veterans are to the United States.
As he was a soldier in Vietnam, he knew he was fighting regimes that didn't have as much regard for their citizens as his country.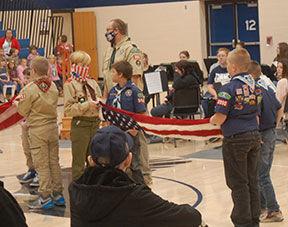 He said knew he was fighting to preserve their freedom. He wished today's generations would become more involved in public affairs and become more aware of foreign influences.
Bedell said that this world is connected in ways we cannot see and things across the globe affect this country, even down to how Americans interact with each other in their everyday lives.
For future events, the Legion organizes a monthly "Sunday Family Fun Day." 
For the first Sunday of every month, families are welcome to take part in activities. 
Plans for upcoming events range from community dinners to arts and crafts. There are even plans for mini snowmobile races for kids sometime during the later winter.
This past November, the legion's "Sunday Funday" was a pony race with crafts for kids. In December, it will take place on the 5th at 2-5 p.m. with a movie matinee and crafts for all ages.
At the Hale Area School gymnasium, students and community members listened to speeches given by community members about patriotism and why Veterans fought and died for their country.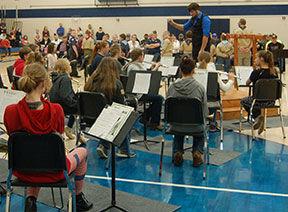 After a rendition of the "Northridge Overture" from the Hale Area Schools Band, everyone in the school gymnasium rose for the National Anthem and Pledge of Allegiance.
Afterwards, there was a prayer and speakers came to the podium to voice on their appreciation for veterans.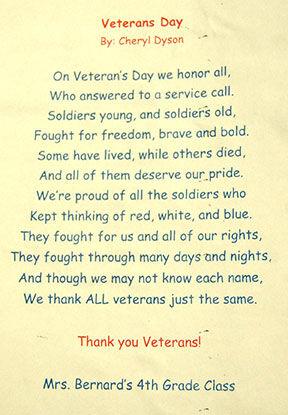 "Our young people today are very well aware of their personal rights, but too often they're unaware of how those rights came to be and the costs to safeguard them," said Superintendent Robert Colby.
"Celebrations like this program and you being here help those young people to know and become more aware of where those rights come from... ...You folks, our veterans can help by sharing your stories, your experiences and your perspective with the youth today."