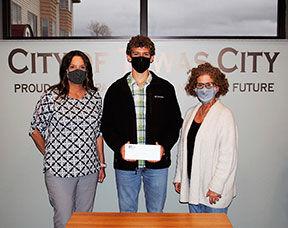 TAWAS CITY – While there weren't many formal votes cast, this month's Tawas City Planning Commission meeting did feature a lot of member input on several items, to get the conversations started on potential moves that could be made in the future. There were a variety of topics on which they gave feedback, ranging from marijuana dispensaries, to day docking rules once the pier rehab project is complete at Tawas City Shoreline Park.
Many of these issues will be revisited, and additional information is being sought. But one item which commissioners were already settled on, was their appreciation for the group's youth representative, Cole Katterman.
The May 4 gathering was his final meeting as the Empowering Youth with Engagement Strategies (EYES) program representative on the planning commission. A Tawas Area High School (TAHS) senior, Katterman has served in this capacity for the last year.
He received a $500 Duane Walters Memorial Scholarship toward his continued education, which was presented by fellow commission member, and Walters' daughter, Tracy Stevelinck.
Involved in his community on a number of levels, the late Walters was also very passionate about getting local youth involved. To that point, when the EYES program was approved by city officials in 2019, Stevelinck said that it was something her father would have supported. Therefore, she offered to fully fund the scholarship.
When presenting the award, she noted that Katterman was the second recipient. The inaugural scholarship went to Riley Klinger, a TAHS senior at that time.
"And both were well chosen," Stevelinck expressed.
"And we wish you the best in the future," she told Katterman. "On behalf of the Walters Family, thank you and congratulations."
The planning commission gave a round of applause for Katterman, who is going on to study business at Saginaw Valley State University. While at TAHS, the Spanish Club, student senate and Executive Board of the National Honor Society have been among his other involvements.
As reported, the EYES program was spearheaded by City Manager/Zoning Administrator Annge Horning. She has said that it was developed to engage youth and receive their perspectives and opinions regarding important decisions made about the future of the city. It gives local high school students an opportunity to become more involved, while also expanding their knowledge of municipal government.
EYES participants hold a non-voting position. The member can share his or her opinions, join in the conversations and verbalize their vote, but the votes do not count.
In separate business, commissioners discussed their thoughts on allowing marijuana dispensaries in the city.
Horning told them at a prior meeting that she would be bringing this matter to them, since the city's zoning ordinance is currently being updated. She explained that now is the time to look at some language, if this is something that they want to consider.
When medical marijuana was first allowed, she said there were zoning regulations for dispensaries in the city. "It was before I was here and I don't know if it was intentional or not, but the way the ordinance was written, they're not allowed in Tawas City."
She said that they had to be so many feet from a residential district, or even from a residential use, and there was nowhere in the city where this would work.
When recreational marijuana was later approved, the state hadn't yet established the regulations. Tawas City ended up repealing its marijuana ordinance, and opting out, Horning continued. "So we do not allow marijuana facilities, medical or recreational, anywhere in the city." She added that it was more of a, "wait and see what happens" type of scenario.
"And at the time, our police chief was quite opposed to allowing them in the city limits and I know he had some good reasons for it," she said. "Our new police chief has a different frame of mind on that."
According to Horning, the chief has dealt with dispensaries both locally and in other communities during his time in law enforcement, and he has not had any issues. "He said they were never a problem. And he's talking about the storefronts, not the grow facilities or anything like that."
Horning has also said that these facilities want to make sure they're doing everything by the book, because there are a lot of consequences if they don't. "And it's a big investment for them to do these."
She told commission members that she and the city's deputy clerk/treasurer recently toured two such establishments in nearby Baldwin Township – The Botanical Co. and High Level Health.
She advised that the staff of both businesses were very helpful, informative and were happy to provide tours and answer any questions she had.
Horning said that they explained everything from what they do, to the multiple security measures they have in place. Along with numerous cameras, this includes the products being stored behind glass and only accessible to employees.
"They talk with you about what your needs are or what you're looking for, and they make recommendations based on that," she said of what she learned from the businesses. "So I was quite impressed with the operations."
She pointed out that the stores also carry CBD products – without the THC that is found in marijuana – as this can be just as effective for a lot of people in meeting their needs. Either way, the staff consults with their clients to help in the process.
If this is something the commission wants to consider, Horning said that the rewriting of the zoning ordinance is the time for them to address the limit on how many dispensaries would be allowed, how close they can be to a residential use, which areas of the city they would be permitted in and so on.
While the proximity of a marijuana dispensary to places such as schools and churches is already built into state law, Horning noted that the city could opt to be even more restrictive if they wanted to.
With the licenses that are issued to these businesses through the state of Michigan, she also said that the local units of government get money back.
There are now three dispensaries in Baldwin Township but, at the end of last year, there were two such licenses. According to Horning, the taxes which are collected by the state related to marijuana are then distributed to all the communities that hold marijuana licenses – and Baldwin got a check for $24,000 and some change for each of the facilities. "So they received a check from the state for $48,000. That goes back to the township directly."
She said that this is to be used on law enforcement activities, which would also be nice in Tawas City, to help offset the budget for their police department. "So there's things to consider."
Horning said she understands that the most a unit of government can charge for the application fee – or the right to have this business in a community – is $5,000. And she believes that every municipality and unit of government in the entire state charges the full $5,000. "So that's additional income and it's renewed on an annual basis."
It's not that the city needs to be doing for this income, she added, she just wanted to put it out there for discussion purposes and to get the thoughts of the planning commission on whether this is something they feel should be allowed.
The group's vice chair, Jackie Masich, asked if the application is essentially like a city fee and that, if the commission moves forward on this, they don't have to give a percentage of that out to the state or another entity.
Horning said that this is correct, from what she understands. "And I should say, too, that $48,000 check that Baldwin Township just got – the county got that, as well." So, she pointed out, it is also a revenue maker for the county.
Further, she remarked that the facilities in Baldwin Township are very nice. One was opened after the owners converted a vacant bank building, another occupies a former appliance store and the third was once a law office. "And they look beautiful. They took very good care of them."
"They bought a couple more pieces of property out there, too," added commission member Ronald Gavenda. While he has his personal feelings about marijuana, "I don't like it but, by the same token, I'm a realist in the fact that it's here. And at least this is being controlled," he said, citing the involvement of both the state and the municipalities.
Similar to a comment made by Horning at the commission's prior meeting, Gavenda noted that the same could have been said about alcohol in the 1930s. "Many of us have a glass of wine and we think nothing of it." Again, it is a controlled product.
When Masich pointed out at their last meeting that dispensaries are virtually everywhere nowadays, Horning agreed.
She added that it was the same type of thing with bars, 100 years ago. It was taboo to have a bar in one's community, and people didn't want to get caught walking into one. But this is not the case currently, and people even take their children into such venues.
Also at their last meeting, Horning stressed that this was not something she was expecting an answer on that night. She simply wanted the commission to start thinking about it and to also discuss it with those in the community who they represent.
Gavenda – expressing similar sentiments as the other representatives – said his biggest question is where a dispensary would be located in Tawas City.
The commission went on to discuss this for some time, considering the pros and cons and mulling some possible sites in the community which may work for a dispensary. Among their comments, were that they wouldn't want one of these businesses too close to residences.
Commissioner Chuck Klenow said that while the local police chief has indicated that he feels safe, he would want to see more statewide data which supports that stand.
The commission also went over such topics as the fact that these are legal operations; they appear to be here to stay and are a presence in multiple communities; and that, if they move forward on this, they would want to limit the number of dispensaries allowed in Tawas City.
While nothing is set in stone, they gave consensus that they are willing to explore this further. So, Horning was to reach out Denise Cline of the Northeast Michigan Council of Governments – who is helping with the ordinance updates – so that she can provide some proposed language on marijuana facilities and sample ordinances from other municipalities which allow these operations.
In the meantime, before this is readdressed at their next meeting, Horning said that both High Level Health and the Botanical Co. staff are more than happy to give tours, if commissioners want to check out the stores and ask questions.
There are also several other items they plan to address in the near future, including the rules for use of the new day docks that are being constructed as part of the Shoreline Park pier upgrades. These are expected to be complete in mid-June.
Sample regulations from other facilities were provided for discussion purposes, and the commission members shared their initial thoughts. However, they will be formalizing any rules at a later date, after they take some time to determine such items as what existing park regulations may already apply to the dock usage.
Horning also pointed out that they may not know what exactly is needed, until the docks are actually open. The commissioners agreed and they ended up scheduling a time to tour the dock construction, to get a firsthand look at the structure and see what might  and might not apply.
For the matters the commission did take action on, this included the appointment of officers, which is to be done annually. They voted to maintain the current lineup for this year, which is Mary Doak as the chair, Masich as vice chair and Butch Short as secretary.