In the deep winter months of January and February, the AuSable River looks different minute by minute. I drive by it every single day to work and on the way home. When the temps dip to single digits, and God forbid, negative digits, large chunks of ice form and bunch together on the lazy flowing waters.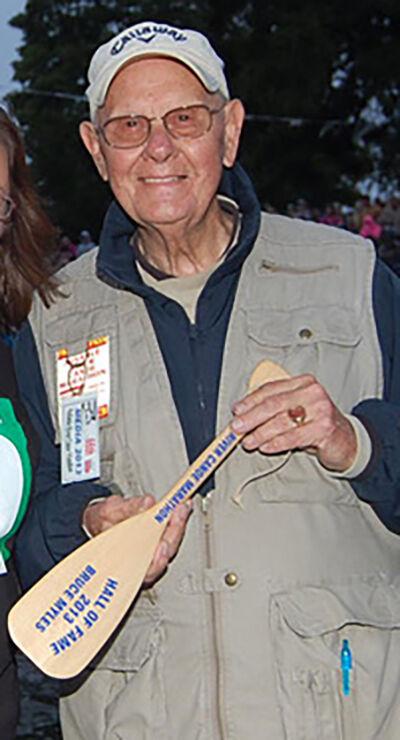 Many mornings the sun is just peeking over the clouds on the edge of the horizon, and a mist of steam is rising off the exposed water of the river, as the ice floes make their way out to Lake Huron. It's a winter scene in AuSable and Oscoda that has been playing out for thousands of years, probably.
In the mornings the river may be choked with ice, but a lot of times by the afternoon, as the sun dips below the horizon on the west side of town, the river is often clear of ice as night descends and the whole process begins again.
The walkway under the Mill Street Bridge (officially renamed the Calvin McLaren Memorial Bridge, in honor of the Iosco County Road Commission member) is not somewhere I would want to venture in January. It's slippery, cold looking and inhospitable to be this time of year. But in July, specifically around the end of July, for years it was the only place I wanted to be, news camera in hand, to get the shot of the finishers of that year's AuSable River International Canoe Marathon.
This was so I could get the final shot I needed to complete my yearly coverage. If you didn't get a shot of the winners getting over the finish line, then you failed in your news coverage. The one constant of me being there was that I got an opportunity to talk the marathon, photography, hunting and Iosco County history with the late Bruce Myles, who passed away at the age of 90 on Jan. 20. He was born on Nov. 7, 1931, was a lifelong Oscoda resident and was the owner and operator of Myles & Sons Insurance Agency.
He was a veteran, involved in a lot of things in the community (his obituary can be viewed on our obituary pages) and loved taking photos of the marathon. Though Bruce had many interactions with many different people in the community, most of my interactions with him concerned that storied race. Every summer he would be perched in the best spot under the bridge, with his film cameras, tripod, rolls of film and often his grandson, to get shots of the marathon finishers coming in from their 120-mile race from Grayling to Oscoda.
It was always a welcome sight for me to come into Oscoda, get to that spot, and have Bruce there to talk about the race with, and about photography. I can say as someone whose career involves taking photos for a living, using modern digital equipment, the fact that Bruce could get amazing shots – more often than not better than my shots – with equipment that a lot of photographers considered antiquated and just antique, always impressed me.
For those who know film photography, the fact that Bruce could get awesome shots consistently with his 35 mm film single lens reflect camera, with a 300 mm telephoto lens, meant that he knew business when it came to taking photos. He had a bond with his camera equipment that meant he knew what the heck he was doing to get really great, non-overexposed shots at high noonish on a July summer day. Just that alone told me he was passionate about the race. Others thought he was passionate too, and in fact he was inducted into the AuSable River Canoe Marathon Hall of Fame during the 66th race in 2013. Bruce was inducted along with racing legend Serge Corbin, and I got to take a picture of the pair before the race with their commemorative paddles they were given during their induction ceremony.
For once Bruce got his photo taken at the marathon, instead of him taking his photo of the marathon. I'll never forget the smile on his face as he held his paddle and I snapped the picture minutes before the 66th race started. It was a proud moment for him. 
After I learned of Bruce's passing, a little bird told me that it is in the works that he will be included on the Michigan Canoe Racing Association Memorial Monument, located out on River Road. I think Bruce would be delighted in that, knowing he will always have a great view of Cooke Pond and the marathon every year. 
I will always remember him, however, at the Mill Street Bridge with one camera sitting on his tripod, and the second one slung around his neck and held up near his eye ready to get a few snaps of racers coming through the finish line. And even though Bruce's finish line spot is pretty icy and inhospitable right now in January, it warms my heart thinking about seeing him there every year doing one of the things he really loved to do.