There has only been one of my former teachers, who I also have had the privilege of calling a close personal friend, that I have ever been confortable calling by their first name. That was Jim Baier. After high school Jim never wanted me to call him Mr. Baier, or God forbid, James. He was plain old Jim and he didn't want to be my "grumpy old school teacher" he wanted to be my friend. And he was a good one at that.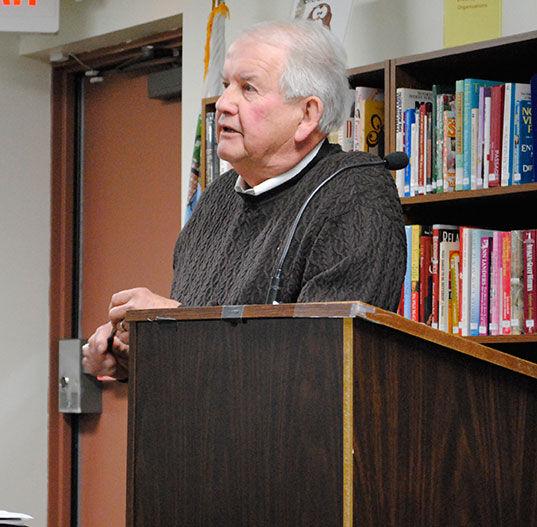 Jim passed away on Sept. 7, 2021 at the age of 80. Many who grew up in Oscoda and attended Oscoda High School would have had "Mr. Baier" as their government or history teacher. He even taught Michigan history at Alpena Community College. Jim might tell you that he "bored" generations of young Owls because that was the type of guy he was. He was quick to tell a joke or a humorous story at his own expense and didn't mind being the target of his own jokes. Anyone who knew he loved to verbally spar with people. Jim really thought it was funny.
He often described himself as "old" in this self-deprecating and joking manner in his later years. I zinged Jim on his old age during one of our last conversations. "Old?!," I said to him, "Hell, Jim, you were an old man when I had you as a high school teacher!" 
He really got a kick out of that, and giving me grief because of my chosen profession as a journalist. I think a lot of my desire to become a journalist had to do with my teachers, including Jim. I am a lot like him. I love to learn new stuff, and I love to tell stories, relate things I have read, and get down to the "brass tacks" of all sorts of different things. You do that in this job. You could say that was a lot of his teaching style, telling stories from his vast knowledge and using his infamous slide projector get his point across.
If there was a topic that he went over in class, there was probably a slide for it, and Jim wasn't afraid to show it to the class. He told me that many of his family vacations involved traveling around the state, and the country, doing road trips to see many different historic markers and get photos. Education was fun for Jim and didn't just come from books. He wanted to be at the place where the event happened, even if the only remembrance of the event could barely fill out a metal Michigan historical marker and he was the only person to give it a read in a decade.
Although the subject of why he became a schoolteacher never came up, I think Jim liked to be with people and engage in discussion and, like me, he enjoyed talking to people and telling stories. That is what he did in his government and history classes; he told stories that taught you something at the same time. If Jim were alive I'd joke with him that he became a teacher so he'd have 30 young hostages for 50 minutes at a shot to relate his stories to, and although it was a dig at him, he would laugh, I'm sure of it.
Students of Jim will probably remember a few unforgettable things about his classroom, other than the slide projector. He used an overhead projector constantly, the type with the clear plastic sheets that you wrote on with an erasable marker. The only issue was that he never actually used those plastic sheets that you could move off the projector, and he would write the lessons directly onto the glass of the projector. He also never had the equipment to properly clean that glass, so he would use brown paper towels, dip the edge in his coffee cup (he always had a coffee cup) and use the moistened paper towel to erase the marker.
Jim was a history and politics fanatic, but also a coffee fanatic. It's funny what you remember about someone when they pass away. For example if I think about Jim I think about coffee and paper coffee cups. It always seemed like the man was never without a cup of Joe. And in fact in writing this column I searched our photo archives of Jim and found a handful of photos during his political career as an Oscoda Township supervisor and trustee and most of them featured him with a paper coffee cup in front of him
I was fortunate enough to have Jim as a government teacher during the contentious Bush/Gore election of 2000. It was the first election I got to vote in, and because of the ballot count there were constant news reports and other information going on concerning the voting count and other pretty obscure government rules for presidential elections.
It was a class I looked forward to because Jim had an opportunity to teach us from the textbook and use real-world examples of what was going on, to get the point across. I still retain a lot of the government and election information he taught me in his class, and have to use it for my job on a daily basis. Unfortunately for my algebra teachers of the past, I cannot say the same.
After he retired in the early 2000s, Jim took on public office for Oscoda Township. It was something he told me he always wanted to do, but not while he was a teacher. After my college career and coming back to town to work for the newspaper, I got to cover him for the Oscoda Press. There were sometimes adversarial times in our relationship as township supervisor and eager reporter, but we always remained friends throughout that time and I knew I could call him anytime for any reason.
With Jim's passing I not only lost a great friend and mentor, but Oscoda lost a man who not only worked hard to educate the community as a school teacher, but also to make the township a better place by being involved in government. Jim, Oscoda will miss you.